NETGEAR WC7520

ProSafe 20-AP Wireless Controller

Sorry, this product is no longer available, please contact us for a replacement.
More pricing below, click here!

Please Note: All Prices are Inclusive of GST

Overview:
Product Features:
Fully-featured architecture for medium-sized businesses, schools, and hospitals with up to 1,500+ users
Supporting up to 150-APs, including redundancy and Wireless-N with appropriate licenses
Robust top-end security, L2/L3 fast roaming, VoWi-Fi QoS
Reliable, Secure and Scalable Wireless Controller for Mid-sized Businesses, Schools and Hospitals
The NETGEAR ProSafe 20-AP Wireless Controller WC7520 offers a high-performance and fully-featured Wireless LAN architecture to meet the demands of medium-sized businesses, schools, and hospitals with up to 1,500 users and more. Focusing on ease-of-use, the WC7520 Controller simplifi es wireless deployments and network management with best-in-class wireless reliability, coverage, and performance. The scalable WC7520 Controller enables businesses to grow their wireless network as needed with a dramatic return on investment, with optional licenses that support their changing needs. Via licensing upgrades, the ProSafe Wireless Controller scales up to 50 access points (AP) and can support next generation IEEE 802.11n APs. For larger deployments, the WC7520 Controller is stackable up to three units, supporting up to 150-APs, including controller redundancy. Meeting the next generation needs of larger installations, the WC7520 Controller delivers central wireless management, integrated wireless mobility, robust top-end security and rich converged services such as L2/L3 fast roaming, guest access captive portal and Voice over Wi-Fi support. Built to last, the WC7520 Controller is backed by a Lifetime Warranty and delivers enterprise-class connectivity and secure wireless LAN functionality.
Scalable Architecture
The WC7520 Controller comes with IEEE 802.11a/b/g support and is upgradable to IEEE 802.11n with WC75NL license. The WC7520 Controller natively supports 20 APs and is upgradable in 10-AP increments up to a total of 50 APs via WC7510L licenses. Stackable up to three controllers, a WC7520 Controller stack can support 150 access points with a single interface. Importantly, the WC7520 offers redundancy for always-on reliability and peace of mind.
Centralized Management
Deployed as an overlay on the existing wired network infrastructure, the NETGEAR ProSafe 20-AP Wireless Controller simplifi es the network management by providing a single point of management for the entire wireless network. Easy to set up, the WC7520 Controller discovers all supported access points in the network, even across VLANs and subnets. Once identifi ed, the access points are provisioned to dependent access points in minutes. Building floor plans can be used to visualize live coverage and heat maps of the wireless network.
Robust Security
With identity-based security features such as support for RADIUS, Active Directory and internal or external AAA server, NETGEAR ProSafe 20-AP Wireless Controller truly unifi es wired and wireless access without compromising on security. Management VLAN is confi gurable and up to 8 security confi guration profi les (SSID, 802.11i security, VLAN, ACLs, radio parameters) can be active. Rogue AP detection permits rogue APs classifi cation (friendly or hostile). Standard RADIUS compliance enables support for third-party authentication and billing system implementation. Scheduled wireless on/off times permits the wireless network to be completely unavailable during specified non-business hours.
Guest Access, Captive Portal and Logging
Guest access allows restricted access to the network, using an integrated captive portal. Two methods of entry are provided, either assisted or self certifi ed. In the assisted model, the receptionist can create a user name and password for guests in the GUI and the WC7520 Controller hosts a captive portal where guests can enter their pre-confi gured credentials to gain access to the network. Alternatively, the WC7520 Controller hosts a guest portal where guests can register themselves before entering the network. Backend VLAN policies ensure restricted access to guests, prohibiting them any access to the sensitive data on the corporate network. Guest activity logs are available.
RF Management and Hole Detection
With integrated RF planning tools, an administrator can input floor plans, building dimensions, and desired coverage. The planning tools compute the predicted RF characteristics of the building, and display predicted coverage. Automatic control of AP transmit power and channel allocation ensures coverage by minimizing interferences. Automatic WLAN healing after loss of AP or due to RF interferences adapts the power and channel of the other APs around the area. Scheduled automatic channel allocation authorizes enterprise-class reliable Wireless experience.
Load Balancing and Rate Limiting
Automatic load balancing of clients across APs is provided based on number of clients per AP, and signal strength threshold/data rate threshold of clients on the BSS. Rate limiting is provided by SSID. Load balancing and rate limiting ensure fair bandwidth allocation among all clients for robust wireless connectivity.
Fast Roaming and Voice Over Wi-Fi
The NETGEAR ProSafe 20-AP Wireless Controller supports rapid mobility across VLANs and subnets including 802.11i pre-authentication and fast roaming support (FRS). Seamless L2 and L3 roaming provides support for latency-sensitive applications such as video, audio and voice over wireless. Wi-Fi Multimedia (WMM) advanced prioritization extends Wi-Fi's high-quality end-user experience to voice applications (VoWi-Fi).
Heat Maps and Triangulation
AP heat maps by wireless band, wireless channel and signal strength allows real-time view of the wireless network status. Administrators can easily locate known APs, rogue APs, and associated clients on the heat map directly from the monitoring page.
Monitoring and Reporting
The WC7520 has a heartbeat mechanism between the controller and the AP. It is monitored based on several factors, such as RF interference, clients, error levels, etc.
Each AP is constantly monitored (number of clients, traffi c load, RF interference, packet error levels and retransmission statistics). Statistics provide reliable metrics per AP, per client, per floor and for the entire wireless network.
Performance
The best of centralized and distributed architectures are implemented by the NETGEAR ProSafe 20-AP Wireless Controller for outstanding Wireless-N performance. Local traffi c is automatically switched at the access points level for fastest processing, when roamed L3 traffi c is processed at the controller level with advanced data control. Real-time applications such as VoWi-Fi require perfect inter subnet / inter VLAN mobility: WC7520 encryption tunneling delivers enterpriseclass fast roaming without any impact on Layer 2 performance.
Supported Access Points
Supporting standard NETGEAR access points, the WC7520 Controller enables customers to select the right access points for their needs, even mixing models to provide the right coverage. The standard access points are converted to dependent access points. Supported models include professional-class ProSafe access points WNAP210 and WNDAP350, all with Power over Ethernet capabilities and lifetime warranties.
*Basic technical support provided for 90 days from date of purchase.
Specifications:
NETGEAR WC7520 Specifications
Wireless Controller Model Number

WC7520 ProSafe 20-AP Wireless Controller

Supported AP Models

WNDAP350 ProSafe Dual Band 802.11n Wireless Access Point
WNAP210 ProSafe 802.11n Wireless Access Point

Supported Modes

A/B/G (default)
A/B/G/N with Wireless-N License Upgrade (WC75NL)

Maximum AP Supported per Controller

20 (default)
50 with 3 x Incremental 10-AP License Upgrades (WC7510L)

Maximum Controllers that Can Be Stacked Together
Maximum AP Supported per Stacked Setup
Maximum Profile Groups per Controller

8
Each access point belongs to only one profile group

Maximum Security Profiles (SSID) per Profile Group

8 per radio (2.4 GHz; 5 GHz)
16 with WNDAP350

Maximum Security Profiles (SSID) per Controller

128 (assuming WNDAP350 and 8 security profiles per radio)

Maximum Security Profiles per Network (3 Controllers)
Maximum Rogue APs Detectable per Controller
Maximum Floorplans per Controller

3 (default)
Additional floorplans possible with USB local storage (up to a maximum of 18 floorplans)

Number of Captive Portals per Controller
Maximum Floorplans per Controller

3 (default)
Additional floorplans possible with USB local storage (up to a maximum of 18 floorplans)

Maximum Rogue APs Detectable per Controller
Maximum Clients per AP

WNAP210: 20
WNDAP350: 32 per radio (64 total)

Maximum Clients per Controller

None other than maximum clients per AP

L2 Mobility

L2 fast roaming support between the APs

L3 Mobility

L3 fast roaming support with encrypted tunnelling between the APs and the controller

Maximum VLANs per Controller

64 VLANs for SSIDs
1 configurable management VLAN

Controller Redundancy

VRRP-based 1:1 redundancy (L2)
*Basic installation support provided for 90 days from date of purchase.
Diagram: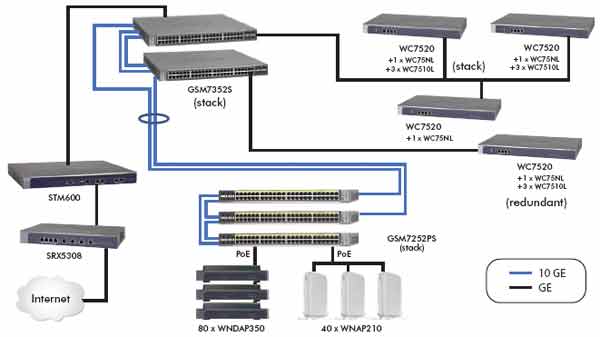 Pricing Notes:
All Prices are Inclusive of GST
Pricing and product availability subject to change without notice.
Netgear Products
License Upgrades
WC7520 Incremental 10-AP License Upgrade
OnCall 24x7 - 3 Year Subscription - Category 3