NETGEAR WAC505

Insight Managed Smart Cloud Wireless Access Point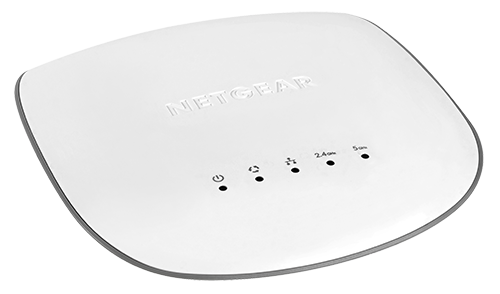 Pricing Notes:
All Prices are Inclusive of GST
Pricing and product availability subject to change without notice.
Sorry, this product is no longer available, replaced by the WAC510PA-100NAS.

Overview:
The NETGEAR Insight Managed Wireless Access Point WAC505 delivers high performance WiFi and high client density for enterprises requiring ubiquitous and reliable wireless for all business applications. The WAC505 is managed by NETGEAR Insight app, for a more intuitive and innovative support, with no need for extra management hardware. The WAC505 features Multi-User MIMO (MU-MIMO) to achieve aggregate speeds up to 1.2 Gbps, option to configure as or Access Point modes, and comes with two Ethernet ports, a Power-over-Ethernet (PoE) 1Gb LAN port and a WAN port. WAC505 comes with market-leading 5-year hardware warranty.
Introducing one-touch wireless visibility & management
Wireless network discovery, setup, monitoring and management can now be done from the palm of your hand - anytime, anywhere, with NETGEAR Insight app. Reliable wireless connectivity for employees and customers is a requirement for any business today. All devices are now connected, all users are mobile and "WiFi everywhere" is commonplace. Business owners are often too busy to handle this and need WiFi that just works!
NETGEAR introduces the new IT revolution for small businesses with "One-touch connectivity" with Insight management app. Experience easy set-up, remote management and full control of your wireless network. With 20 years of experience in small & medium business networking, NETGEAR is now delivering wireless connectivity that "just works" at your fingertips.
NETGEAR Insight enables multi-device configuration of your NETGEAR Insight Managed wireless access points, either locally or remotely. It provides network management, monitoring and service deployment across multiple remote and local sites for the easiest and most user-friendly wireless networking experience. Anywhere management also includes Insight Managed switches and Business-Class ReadyNAS on top of Insight Managed Wireless Access points, enabling whole network visibility and management. Insight app also allows you discover select wired and wireless devices from your local or remote network.
Business Features for higher speed, greater coverage and higher density WiFi
Business class WiFi with superior Wave 2 802.11ac performance and range
2x2 with 2 streams of data for aggregate throughput of up to 1.2Gbps (300 Mbps at 2.4GHz and 867 Mbps at 5GHz)
Multi-User Multiple In Multiple Out (MU-MIMO) avoids congestion and ensures performance in high client density deployments like public WiFi hotspots
One Ethernet port, with Power-overEthernet (PoE) for ease of deployment (PoE switch & AC/DC power adapter are sold separately)
One-touch network visibility. Anywhere. - Smart Cloud remote app management for unrivaled mobile management experience of your wireless network
App managed, through NETGEAR Insight app for one-touch installation and management of all your WAC505 and WAC510 Access Points, no additional hardware needed
Market leading 5-year warranty with 24x7 chat support for peace of mind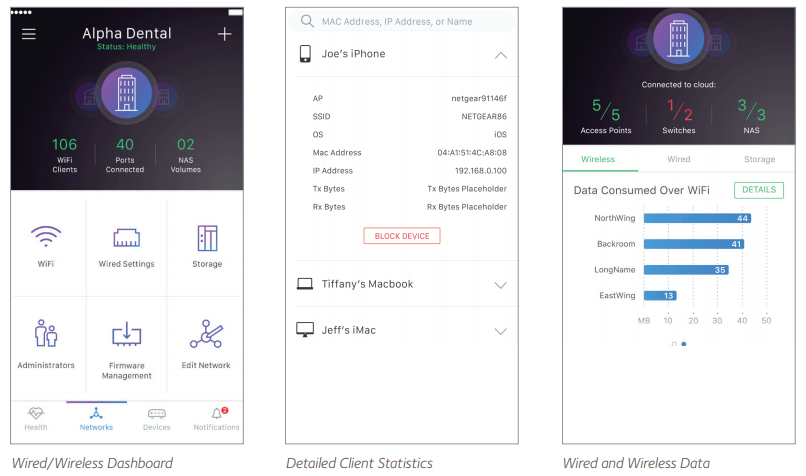 Features:
One-touch wireless connectivity & management with NETGEAR Insight app
Instant in-app discovery & set-up
Local and Cloud monitoring and management
Remote access and multi-device configuration
No additional Cloud controller, appliance, network manager, or PC/server is necessary
QR code initial configuration for instant installation
Includes Guest Facebook WiFi check-in
Easy guest check-in to your business
Gain insight on your clients and business
Get more attention to your business
Instant set-up
Superior performance with 802.11ac Wave 2
Dual band concurrent operation between 2.4GHz and 5GHz frequency ranges
Maximum performance with multi-gigabit throughput (up to 1.2 Gbps)
Multi-User MIMO enable concurrent wireless transmit and receive with multiple clients
Improves coverage for multiple users in dense environment
Flexible deployment with Power over Ethernet and accessories
Standard based 802.3af Power over Ethernet (PoE)
Access Point mode for multiple WAC505 for mid-size office environment
Ceiling and wall mount for ease of placement
Specifications:
Specifications
WAC505
WAC505
Features
Frequency
2.4GHz and 5GHz
2.4GHz and 5GHz
Wireless Mode (Transmit x Receive)
802.11ac (2x2)
802.11ac (2x2)
802.11ac Wave
Wave 2
Wave 2
Multi-User MIMO
Yes
Yes
Maximum Theoretical Throughput
1.2Gbps
1.2Gbps
Maximum Throughput (2.4/5GHz)
300/867Mbps (2.4/5GHz)
300/867Mbps (2.4/5GHz)
Power over Ethernet (PoE) IEEE 802.3af
Yes
Yes
PoE Power Consumption
8.9 Watts
9.3 Watts
Centralized Management
Insight App, Standalone
Insight App, Standalone
SNMP
v1, v2c
v1, v2c
Secure SSH
Yes
Yes
Secure Socket Layer (SSL)
Yes
Yes
Router Mode
No
Yes
Wireless Distribution System (WDS)
Repeater
Yes
Yes
Bridge point-to-point/multi-point
Yes
Yes
Simultaneous bridge & wireless client association
Yes
Yes
Separate bridge and access point
Yes
Yes
Antenna
Internal 3/4dBi (2.4/5GHz)
Internal 3/5dBi (2.4/5GHz)
Security
Security

WiFi Protected Access (WPA/WPA2), 802.11i
MAC address filtering with access control
Rogue AP detection
Block SSID Broadcast
VLAN Support
Guest Network/Captive Portal
Easy ceiling mounting/wall mouting
Bandwidth management
Bandsteering

Technical Specifications
Standards

IEEE 802.11ac Wave 2 standard
WMM Wireless Multimedia Prioritization
WDS Wireless Distribution System
Power over Ethernet (PoE) IEEE 802.3af
Power over Ethernet (PoE) IEEE 802.3at

Physical Specifications

Physical Dimensions (W x D x H): 175 x 165 x 35 mm (6.89 x 6.49 x 1.38 in)
Weight: 256 g (0.56 lb)

Physical Dimensions (W x D x H): 197.32 x 197.32 x 37mm (7.75 x 7.75 x 1.45in)
Weight: 555.5g (1.22lb)

Physical Interfaces

One 10/100/1000BASE-T Gigabit Ethernet (RJ-45) ports with Auto Uplink (Auto MDI-X) supporting IEEE 802.3af or 802.3at Power over Ethernet (PoE)
Power adapter (not included): 12V DC, 2.5A; plug is localized to country of sale
Five (5) LED: Power, Link/ACT, LAN, 2.4GHz, 5GHz

Two (WAN/LAN) 10/100/1000BASE-T Gigabit Ethernet (RJ-45) ports with Auto Uplink (Auto MDI-X) with WAN port supporting IEEE 802.3af or 802.3at Power over Ethernet (PoE)
Power adapter (not included): 12V DC, 2.5A; plug is localized to country of sale
Six (6) LED: Power, Link/ACT, LAN1, LAN2, 2.4GHz, 5GHz

Security

WiFi Protected Access (WPA, WPA2)
WPA Enterprise (802.1x)
Wireless access control to identify authorised wireless network devices
MAC address authentication

WiFi Protected Access (WPA, WPA2)
Wireless access control to identify authorised wireless network devices
MAC address authentication

Network Management

NETGEAR Insight App Management for setup, monitoring and management
SNMP v1, v2

Advanced Wireless

Wireless Distribution System (WDS)

Bridge mode: Point-to-point wireless
Bridge mode: Point-to-multipoint wireless
Repeater mode
Adjustable Transmit Power Control (TPC)

Device detection

Identify type of wireless clients in the network

Package Contents

(WAC505) Insight Managed Smart Cloud Wireless Access Point
Wall/ceiling mount kit
Installation guide

(WAC510) Insight Managed Smart Cloud Wireless Access Point
Wall/ceiling mount kit
Installation guide

NETGEAR Warranty
NETGEAR 5-year hardware warranty
Diagram:
Deployment Scenario