NETGEAR XS712T

ProSAFE 10-Gigabit Ethernet Smart Switch

Sorry, this product is no longer available, Please contact us for a replacement.

Overview:
Product Features:
12 port copper 10GBase-T with 2 ports SFP+
Advanced L2 features for traffic management, security and performance optimization
Designed for SMB with 10G connections to server and storages
Industry's first10G Smart Switch, purposely designed for SMB with Cost-Effective 10GBase-T connectivity and Advanced L2+ Features
As a leading provider of network equipment for SMBs, NETGEAR understands the importance of a reliable and high performance network to the SMB customers. With the growth of virtualization, cloud-based services and applications like VoIP, video streaming and IP surveillance in the SMB space, SMB networks need to extend beyond simple reliability to higher speed and better performance. The 10G Smart Switch (XS712T) from NETGEAR presents the right solution for this requirement, delivering unprecedented non-blocking 10-Gigabit bandwidth at an affordable cost by using the 10Gbase-T technology.
The NETGEAR XS712T is a powerful smart switch that comes with 12 10-GBase-T copper ports and 2 Combo SFP+ for 10G Fiber links. It is purposely designed as a costeffective way to provide 10G connections to 10G-capable servers and NAS (Network Attached Storage). It can be used as a 10G access switch, uplink to 10G Managed switch (XSM7224) while expending the 10G connections down to the edge.
Highlights
XS712T provides comprehensive L2 features in order to meet our customers' current and future needs on virtualization, converged network and mobility. Some of the main features include:
Advanced VLAN features such as Protocolbased VLAN and MAC-based VLAN
Advanced QoS (Quality of Service) with L2-L4 awareness and 8 priority queues
Static Routing
Private VLAN
Dynamic VLAN assignment
IGMP and MLD snooping
Advanced Security
IPv6 for management, QoS and ACL
10 Gigabit transition with Base-T
10GBase-T, like other Base-T technologies, uses the standard RJ45 Ethernet jack
It is backward compatible, auto-negotiating between higher and lower speeds - thereby not forcing an all at once network equipment upgrade
Cat5/Cat5E are supported for Gigabit speeds; when Cat6 twisted pair copper cabling is minimum requirement for 10 Gigabit up to 30 meters
Cat6A or newer Cat7 cabling allow for up to 100 meter 10GBase-T connections
Designed as Core Switch for SMB Network
10G connection to 10G-capable servers and network storages
Powerful L2/L2+ features made it the most cost-effective core switch for SMB and virtualization environment
Future-Proof your network with 10G bandwidth, advanced traffic management and comprehensive IPv6 Support
Static routing, helps to route internal traffic for more efficient use of network resources
IGMP and MLD snooping, providing advanced multicast filtering
Act as Aggregation Switch for Mediumsized Network
10G switch helps to resolve the congestion issue between network edge and core, which is caused by the boarder adoption of Gigabit-to-the-desktop
10 Gigabit Ethernet provides greater scalability than multiple Gigabit Ethernet links, resulting in a simplified and highlyefficient network infrastructure
Up to eight 10 Gigabit Ethernet links can be aggregated into a virtual 80-Gbps connection
10 Gigabit Ethernet reduces cabling complexity and uses existing cabling efficiently
Smart IT, not Big IT
Easy to manage via web-Based Management GUI or Smart Control Center for multi-switch deployment
Standard-based technology, ensuring interoperability with any standard-based devices in the existing network
Dual firmware images, improving reliability and uptime to your network
Worry-free with NETGEAR ProSAFE Lifetime Hardware Warranty
Assist with customer deployment with 1-year Free 24x7 Advanced Technical Support*
At a Glance:
Hardware Features
Benefits
12 10GBase-T connections
Support low-latency, line-rate 10G Copper "Base-T" technology with backward compatibility to Fast Ethernet and Gigabit Ethernet. Cost-Effectively migrate current network to 10G capacity by utilizing the existing Cat6 RJ45 short connections (up to 300m) and Cat6A / Cat 7 connections up to 100m.
2 combo SFP+ 10G Fiber ports
Backward compatible to Gigabit fiber. Providing flexibility to uplink to 10G-capable core or aggregation switches that support fiber links.
Software Features
Benefits
Dynamic VLAN Assignment
IP phones and PCs can authenticate on the same port but under different VLAN assignment policies. Users are free to move around and enjoy the same level of network access regardless of their physical location in the network.
Static Routing
A simple way to provide segmentation of the network with internal routing through the switch - reserving the router for external traffic routing only, making the entire network more efficient.
Comprehensive IPv6 Support for management, ACL and QoS
Build current network with future in mind. Ensure investment protection and a smooth migration to IPv6-based network without switch replacement.
Private VLAN
Help reduce broadcast with added security
IGMP Snooping and MLD Snooping
Facilitate fast receiver joins and leaves for multicast streams. Save cost and improve network efficiency by ensuring multicast traffic only reaches designated receivers without the need of an extra Multicast router.
Robust security features:

802.1x authentication
Port-based security by locked MAC
ACL fi ltering to permit or deny traffic based on MAC and IP addresses

Build a secured, converged network with all types of traffic by preventing external attacks and blocking malware while allowing secure access for authorised users.
Comprehensive QoS features:

Port-based or 802.1p-based prioritization
Layer 3-based (DSCP) prioritization
Port-based rate limiting

Advanced controls for optimized network performance and better delivery of mission-critical traffic such as voice and video.
DHCP Snooping
Ensure IP address allocation integrity by allowing only clients with specific IP/MAC addresses to have access to the network.
Dual firmware Images and configuration files
Dual firmware image and dual configuration file for transparent firmware updates/configuration changes with minimum service interruption.
Protected Ports
Ensure no exchange of unicast, broadcast, or multicast traffic between the protected ports on the switch, therefore, improve the security of your converged network where your sensitive phone conversation can stay private and your surveillance video clips can be forwarded to their designated storage device without leakage or alteration.
Specifications:
NETGEAR XS712T Specifications
Auto-sensing RJ45 100/1000/10GBase-T
Packet Buffer Memory

2 Mb - Dynamically shared across only used ports

Switching fabric

240 Gbps - Line-rate (non blocking fabric)

Energy Efficient Ethernet (EEE)

IEEE 802.3az Energy Efficient Ethernet Task Force compliance- Deactivated by default

Auto-EEE Mode
Forwarding mode
Latency (64-byte frames, 10 Gbps, Copper 10GBase-T)
Latency (64-byte frames, 10 Gbps, Fiber SFP+)
Addressing
Address database size
Number of VLANs

256 VLANs (802.1Q) simultaneously

Number of multicast groups filtered (IGMP)
Number of Link Aggregation Groups (LAGs - 802.3ad)

8 LAGs with up to 8 ports per group

Number of hardware queues for QoS
Number of static routes - IPv4
Number of IP interfaces (port or VLAN)
Jumbo frame support
Acoustic noise (ANSI-S10.12)

49.7dBA @ 25 °C ambient (77 °F)

Heat Dissipation (BTU)
Mean Time Between Failures (MTBF)
L2 Services - VLANs

IEEE 802.1Q VLAN Tagging
Protocol based VLANs
MAC based VLANs
Voice VLAN - Based on phones OUI bytes (internal database, or usermaintained) or protocols (SIP, H323 and SCCP)

Network Security

IEEE 802.1x
Guest VLAN
RADIUS based VLAN assignment via .1xv
MAC-based .1x
Network Storm Protection, DoS
Broadcast, Unicast, Multicast DoS Protection
DoS attacks
DoS Prevention
Private VLAN

L2 Services - Availability

IEEE 802.3ad - LAGs
LACP ( (8 LAGS with max. of 8 members in each LAG))
Broadcast Storm Control
IEEE 802.3x (Full Duplex and flow control)
IEEE 802.1D Spanning Tree Protocol
IEEE 802.1w Rapid Spanning Tree
IEEE 802.1s Multiple Spanning Tree

L2 Services - Multicast Filtering

IGMP Snooping (v1, v2 and v3)
MLD Snooping Support (v1 and v2)
IGMP Snooping queries
Block unknown Multicast

L3 Services - DHCP

DHCP Client
DHCP Snooping

L3 Services - IPv4 Routing

Static Routing
VLAN Routing
Router Discovery (IRDP)

Network Monitoring and Discovery Services

802.1ab LLDP
SNMP V1, V2, V3
RMON 1,2,3,9

Network Traffic

Access Control Lists (ACLs) L2 / L3 / L4
IP-based ACLs (IPv4 and IPv6)
MAC-based ACL
TCP/UDP-based ACL
MAC lockdown
MAC lockdown by the number of MACs
IEEE 802.1x Radius Port Access Authentication
Port Security
DHCP Snooping

Quality of Service (QoS)

Access Lists
L2 MAC, L3 IP and L4 Port ACLs
Ingress rate limiting
Egress rate limiting
DiffServ QoS
IEEE 802.1p COS
Dst MAC and IP
IPv4 and v6 DSCP
IPv4 and v6 TOS
WRR (Weighted Round Robin)
Strict Priority queue technology
Auto-VoIP
Yes, based on protocols (SIP, H323 and SCCP) or on OUI bytes (default database and user-based OUIs) in the phone source MAC address
Auto Video
Port Mirroring

IEEE Network Protocols

IEEE 802.3 Ethernet
IEEE 802.3z Gigabit Ethernet 1000BASE-SX/LX
IEEE 802.1D Spanning Tree (STP)
IEEE 802.3i 10BASE-T
IEEE 802.3ae 10-Gigabit Ethernet
IEEE 802.1s Multiple Spanning Tree (MSTP)
IEEE 802.3u 100BASE-T
IEEE 802.3ad Trunking (LACP)
IEEE 802.1w Rapid Spanning Tree (RSTP)
IEEE 802.3ab 1000BASE-T
IEEE 802.1AB LLDP with ANSI/TIA-1057 (LLDP-MED)
IEEE 802.1X Radius network access control
IEEE 802.1Q VLAN Tagging
IEEE 802.1p Class of Service
IEEE 802.3x full-duplex flow control

Management

Password management
Configurable Management VLAN
Admin access control via Radius and TACACS+
Web-based graphical user interface (GUI)
Smart Control Center (SCC) for multiswitch management
IPv6 management
Dual Software (firmware) image
Dual Configuration file
SNTP client over UDP port 123
SNMP v1/v2
SNMP v3 with multiple IP addresses
RMON 1,2,3,9
Port Mirroring
Many to One Port Mirroring
Cable Test utility
SSL/HTTPS and TLS v1.0 for web-based access
File transfers (uploads, downloads) TFTP / HTTP
HTTP Upload and Download (firmware)
Syslog (RFC 3164)

LEDs
Physical Specifications

Dimensions: 440 x 257 x 43 mm
Weight: 4.04 kg (8.9 lb)

Power Consumption

98.2W (max.) - Worst case, all ports used, line-rate traffic

Operating Temperature

32° to 122°F (0° to 50°C)

Operating Humidity

90% maximum relative humidity, non-condensing

Operating Altitude

10,000 ft (3,000 m) maximum

Storage Temperature

- 4° to 158°F (-20° to 70°C)

Storage Humidity

95% maximum relative humidity, non-condensing

Storage Altitude

10,000 ft (3,000 m) maximum

Electromagnetic Emissions and Immunity Certifications

CE mark, commercial
FCC Part 15 Class A, VCCI Class A
Class A EN 55022 (CISPR 22) Class A
C-Tick Class-A
EN 50082-1
EN 55024

Safety Certifications

CB mark, commercial
CSA certified (CSA 22.2 #950)
UL listed (UL 1950)/cUL IEC 950/EN 60950
CCC (China Compulsory Certificate)

Warranty and Support

ProSAFE Lifetime Warranty
ProSUPPORT 24x7 Advanced Technical Support, 1 year (included)*

ProSUPPORT™Service Packs Available

XPressHW, Category 1: PRR0331 (3-year next-business day hardware replacement contract)
OnCall 24x7, Category 1: PMB0331 (3-year Advanced Technical Support contract, including Remote Diagnostics performed by our technical experts for prompt resolution of technical issues, and next-business day hardware replacement)
* 1-year 24x7 Advanced Technical Support includes Remote Diagnostics performed by our technical experts for prompt resolution of technical issues.
Network: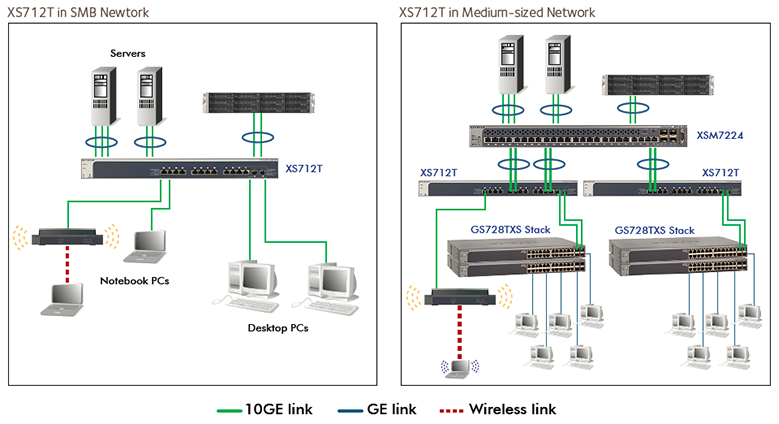 Why 10G Switches and Why from NETGEAR?
NETGEAR offers the Industry's first cost-effective 10G Switch for SMBs and is the only provider for 10G solution at affordable price point:
Ideal for SMBs to use as the core switch, connecting to 10G-capable Servers and network storages.
Cost-effectively expand 10G bandwidth from core switch in medium-sized networks to access switches which are equipped with 10G uplinks
Powerful feature sets with advanced L2 functions, enhanced security measures, static routing, dynamic VLAN assignment and IPv6 support
Lifetime warranty and 1-year Free Advanced Tech Support* for peace-of-mind
Pricing Notes:
All Prices are Inclusive of GST
Pricing and product availability subject to change without notice.