NETGEAR Wi-Fi 6
Next Generation WiFi for Today's Smart Devices
You may not know it...
But there's a good chance your WiFi is outdated, and your router is the culprit. While your router was made to deliver fast internet to your laptop and smartphone, it may not have been equipped to handle the demand of all the consoles, tablets, 4K TVs, thermostats, and other smart devices vying for bandwidth in your home today.
You deserve a WiFi network that's ready for the devices of today and tomorrow.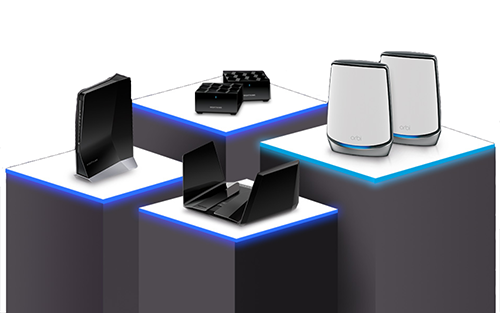 Capacity. Speed. Efficiency.
Upgrade your Wifi
With WiFi 6, you get up to 4X more device capacity than you do with WiFi 5, so you can connect and stream on all your devices without affecting speed or reliability.
It's a WiFi Super Autobahn
WiFi 6 supports up to 12 streams at once. Enjoy blazing-fast speeds on all your connected devices and say goodbye to buffering and lag.
Get the best performance
Many of the latest smartphones and laptops are compatible with WiFi 6. By upgrading to WiFi 6, you can unlock the best WiFi performance.
Connect to the best WiFi with peace of mind
NETGEAR Armor is a cybersecurity solution that protects your network and keeps your private data safe, both at home and on the go. Protect an unlimited number of devices, including smartphones, laptops, smart TVs, and even security cameras and smart thermometers, from threats before they strike. Select NETGEAR WiFi solutions come with NETGEAR Armor built-in so you can stream, game, video call, and more with complete peace of mind. Learn more about NETGEAR Armor.
WiFi 6 for business and home office
NETGEAR has been at the forefront of innovation and cutting-edge solution for more than 20 years, providing innovative and ground-breaking network solutions which include a suite of advanced WiFi 6 products - giving you access to the most advanced WiFi on the planet.
WiFi 6 overcomes these challenges
Coverage and range, especially through walls in blind spots
Need for faster and easier set up
Network and per device speed, especially with more devices
Demand for security and access control
Need for smooth configuration and firmware updates
WiFi 6 for Business
Why are businesses adopting WiFi 6?
Best WiFi Speed - 70% more throughput than WiFi 5
Connect More Devices - optimized speed even in high density areas
Improved Coverage
Future-Proofing
Compatibility
Battery Efficiency
Seamless Roaming
Faster Backbone with 2.5G - Multi-gig networking and connectivity
High Density IoT
Safer Networks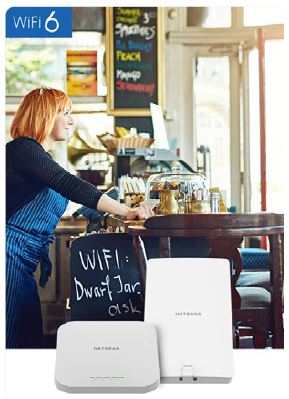 Remote WiFi 6 Management
Most NETGEAR WiFi 6 business access points include NETGEAR Insight, the award-winning remote cloud management solution for easy installation, monitoring, and management from anywhere.
NETGEAR Insight is an industry first in network management, providing easy plug-and-play setup and management. Its cloud portal can be accessed via an intuitive web interface or the Insight mobile app. Insight offers a wide variety of configuration options for the most basic networks to multi-tenancy and multi-roles.
NETGEAR Insight enables easy configuration, monitoring, and management of your wireless access points together with Insight-managed switches and storage. Wireless management features include: Instant WiFi for automatic wireless configuration to limit interferences, frequency band selection, VLAN creation and association with SSID, WiFi security configuration, visibility into WiFi clients, reporting, and many more.
Use cases
Who is upgrading to WiFi 6?
Sharing a WiFi connection with the rest of the family as people are working from home, video calling or downloading large files can slow everyone down. WiFi 6 is optimized for concurrent users.
As medicine moves toward more innovative technologies for imaging, record storage, and telehealth, it requires more bandwidth. Upgrading to WiFi 6 helps ease high demand and provide efficiency.
Older, legacy WiFi systems have slow bandwidth lack device capacity and less secure connections. WiFi 6 can meet growing demand for connectivity across all the technology and devices the industry depends on.
As wireless handheld Point of Sale devices increase in use so does the need for suffcinet bandwidth and total site coverage. WiFi 6 can meet those growing demands.
Libraries, city halls, police offices and the public sector in general are becoming more technologically advanced and reliant on WiFi and need the bandwidth capacity and efficiency it offers.
The increase in video streaming, online with WiFi 6 greatly improve student's and teacher's educational experiences.
From AI assembly line robots to autonomous delivery trucks, most or all new machinery and loT will require high bandwidth and capacity.
Finance companies need high bandwidth and zero-delay streaming to meet the needs of daily stock market traders and demanding finance apps. WiFi 6 can keep up with these demand.
Houses of worship need great network conncetivity to make sure everything runs smoothly for the team and improve the congregation's experince. Reliability, simplicity and affordability are high priorities. WiFi 6 checks all those boxes.

The WiFi 6 Difference
Increased speed, coverage, and capacity for today's WiFi demands
Speed
Up to 70% faster speeds on both bands
Coverage
Up to 50% more coverage, with no dead zones
Device Capacity
More simultaneous users, with high WiFi quality for everyone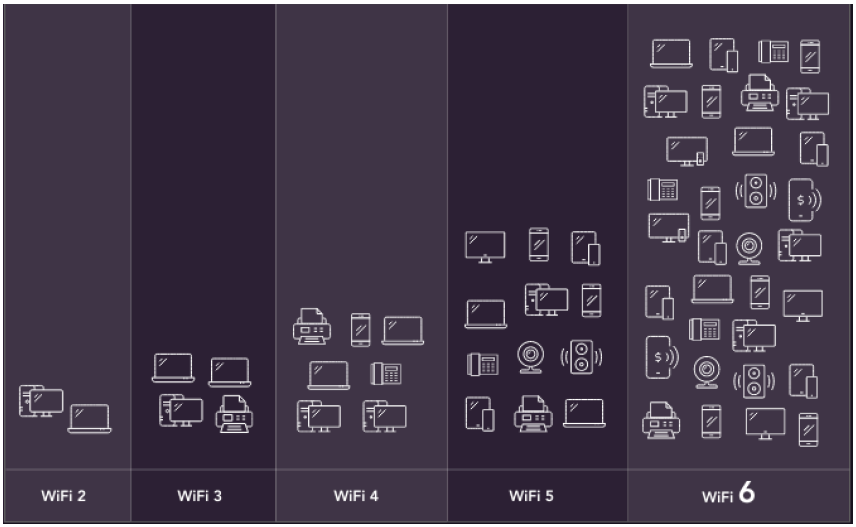 WiFi 6 Features
6 is up to 12 streams… at once.
6 is 4X more capacity.
6 is a 40% increase in data throughput.
6 is a longer battery life for your devices.
6 is a proper home for all smart devices.
6 is a welcome mat to 8k streaming.
6 is 100% backwards compatible.
6 is the biggest revolution in WiFi, ever.