NETGEAR WND930

Dual Band High Powered 802.11n Outdoor Access Point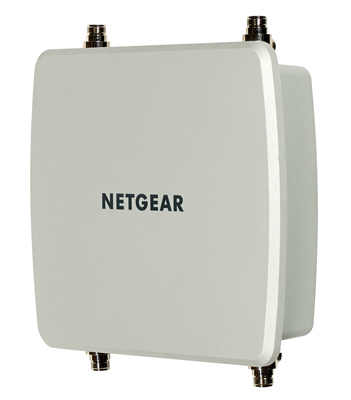 Sorry, this product is no longer available, please contact us for a replacement.
More pricing below, click here!

Please Note: All Prices are Inclusive of GST

Overview:
Maximizes wireless coverage with superior outdoor access
The WND930 Outdoor Access Point is a dual band concurrent 802.11n Outdoor Access Point that combines high power, optimal high gain antennas, and an industrial grade enclosure for optimal outdoor deployment. The WND930 Outdoor Access Point is powered by redundant dual Power over Ethernet (PoE) gigabit ports as well as the capability to power other PoE devices. The WND930 Outdoor Access Point operates under harsh environment with its industrial grade IP67 enclosure and an embedded heater to allow the Access Point to operate in below freezing point temperature. The WND930 Outdoor Access Point is ideal for hotels, resorts, schools, multi-dwelling apartments, and other locations needing high throughput, high capacity outdoor coverages. The WND930 Outdoor Access Point can operate either as a point-to -point mesh link between remote locations or as an Access Point providing coverages for users. As with all NETGEAR wireless products, the WND930 Outdoor Access Point is designed with an easy setup for a reliable, high performance and affordable total cost of ownership.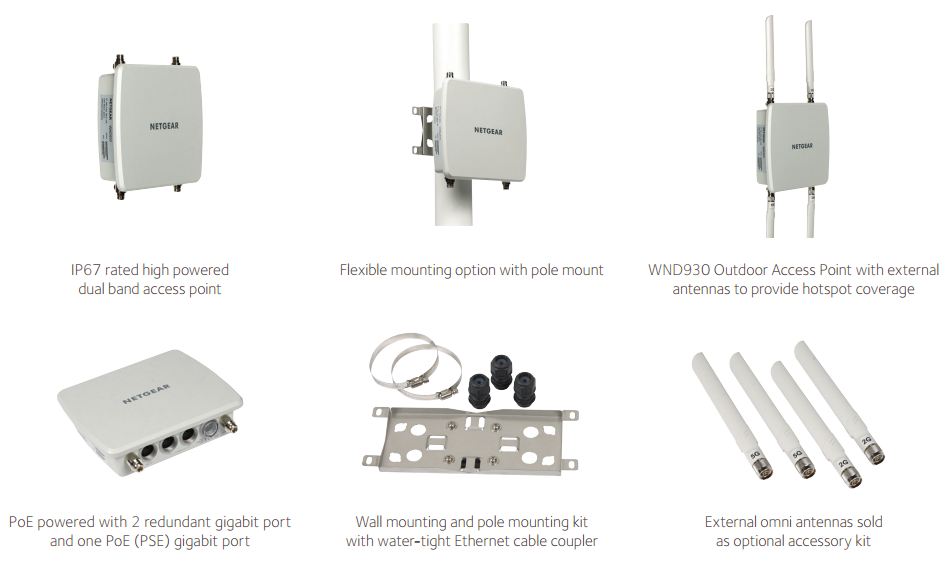 Features:
High powered for maximum coverage with ultra-reliability
500 mW output power with additional high gain internal antenna to deliver extended coverage
Dual band concurrent operation (2.4 and 5 GHz) for maximum flexibility
NETGEAR reliable 2 year product warranty
Hardened enclosure for harsh outdoor environment
IP-67 water and dust proof industrial grade enclosure ensure deployment in extreme weather conditions
Embedded heater automatically activate to enable operation in below freezing temperature
Included wall, pole, and ceiling mounts to facilitate flexible deployment options
Flexible Power over Ethernet choices to maximize redundancy and deployment options
Dual gigabit Ethernet ports with redundancy to enable AP to continue to operate in the case of intermittent power failure
PoE power sourcing (PSE) to power other PoE devices such as surveillance cameras directly from the WND930 Outdoor Access Point
Flexible deployment options for a variety of applications
Flexible deployment models including point to point mesh with embedded high gain directional antenna and access point mode with external antenna option
Robust wall mounting and pole mounting kits for flexible deployment options
Ideal for both Hotspot WiFi access and point-to-point mesh links
Internal high gain narrow beam sectorized antenna for high performance point to point connectivity over long distance
External antenna connectors with optional external omni antennas to provide hostpot WiFi access on both 2.4 and 5 GHz bands
Simple to deploy and easy to set up with intuitive user interfaces
Simple connectivity and ease of set up
Dual redundant Gigabit Power over Ethernet for simple connectivity
Powered external PoE devices such as surveillance cameras to maximize use applications
Comprehensive wireless security and sophisticated quality of services
Specifications:
NETGEAR WND930 Specifications
Physical Characteristics
Power

Power over Ethernet (802.3af or 802.3at)
2 ports 802.3af or 1 port of 802.3at for AP operation
2 ports of 802.3at for concurrent AP and PoE PSE operations

Physical Dimensions
Dimensions (LxWxH) 255x225x78mm 10 x10x3in
Weight
1894g (67oz)
Mounting
Wall mount/pole mount kit included
Interfaces and Indicators
Physical Interfaces

Two (10/100/1000Base-T Ethernet (RJ-45) port with Auto UplinkTM (Auto MDI-X) with PoE PD (Power over Ethernet In)
One (10/100/1000Base-T Ethernet (RJ-45) port with Auto UplinkTM (Auto MDI-X) with PoE PSE (Power over Ethernet Out)

External Antenna Connectors

Two connectors for 2.4GHz antennas Type N connector (female)
Two connectors for 5GHz antennas Type N connector (female)

LEDs
Power, Activity, 2.4GHz, 5GHz, Heater
Environmental Conditions
Operating Temperature
-4° to 140°F (-20° to 60°C)
Storage Temperature
-40° to 176°F (-40° to 80°C)
Operating Relative Humidity
Storage Humidity
MTBF

@ 25°C > 10,45K hours
@ 60°C > 290,000 hours

Ingress Protection Marking
IP67 rated
Power Consumption

15.2 W max (heater off, no PoE out)
25.1 W max (heater on, no PoE out)
33.9 W max (heater off, PoE out)
43.8 W max (heater on, PoE out)

Number of wireless clients supported
128
RF Characteristics
Standards

IEEE 802.11n 2.0 specification
IEEE 802.11g
IEEE 802.11b
IEEE 802.11a

Frequency Band
2.4GHz and 5GHz dual band concurrent operation
Maximum RF Power Output (country dependent)

27dBm (500 mW) 2.4GHz
26dBm (400 mW) 5GHz

Maximum Theoretical Throughput

300Mbps (2.4GHz)
300Mbps (5GHz)

Antenna Gain

8dBi (2.4GHz)
8dBi (5GHz)

Network Management

Standalone
Centralized management (future)

Advanced Wireless Modes

WDS Point-to-point wireless bridge mode
Wireless Access point mode

Security

Wired Equivalent Privacy (WEP) Encryption
WiFi Protected Access Pre-shared Key (WPA-PSK, WPA2-PSK)
MAC address filtering
1 BSSID

802.11e WMM
Wireless multimedia mode for QoS
Package Contents
Package Contents

Outdoor High Power Wireless N Access Point
Wall mounting bracket
Pole mount clamps
Weatherproof cable glands
Installation guide
Warranty/support information card

Warranty and Support
Warranty*
NETGEAR 2-year warranty
Safety Certification
ITU-T K.21
Optional Support

PMB0351: 5 years OnCall 24x7
PMB0331: 3 years OnCall 24x7
PMB0311: 1 year OnCall 24x7
PRR0351: 5 years XPressHW
PRR0331: 3 years XPressHW
* 2-Year Warranties cover hardware, fans, and internal power supplies - not external power supplies or software. Warranty is only valid for the original purchaser, and modifications to product may void the warranty. See http://www.netgear.com/about/warranty/ for details. Basic phone support for 90 days from purchase and lifetime online chat support when purchased from a NETGEAR authorised reseller.
Deployment: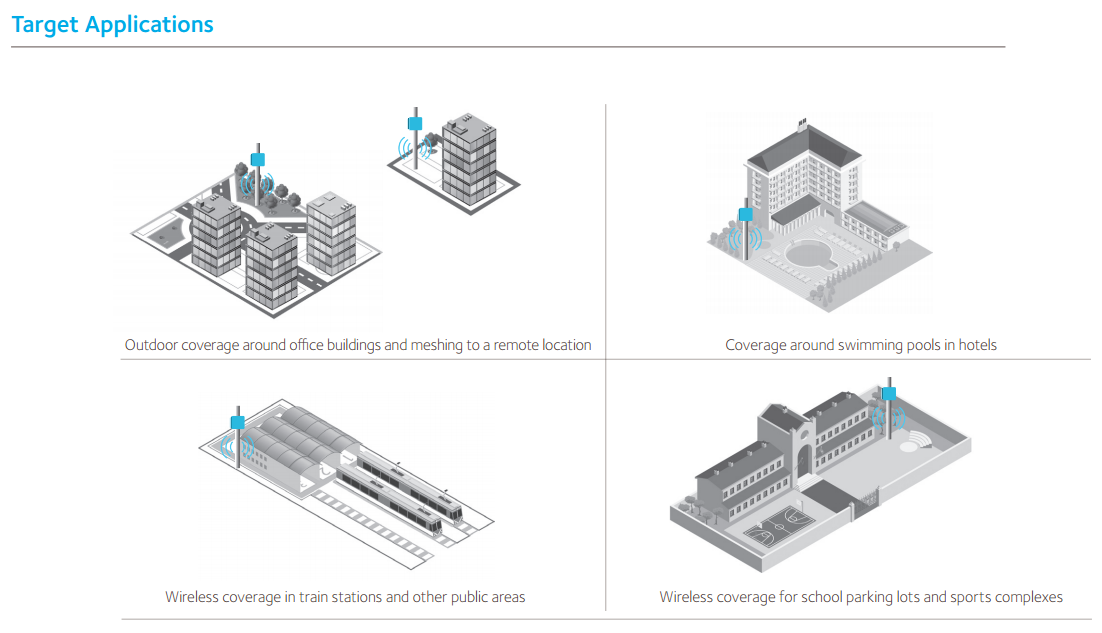 Pricing Notes:
All Prices are Inclusive of GST
Pricing and product availability subject to change without notice.