NETGEAR WAC720

ProSAFE Business 2 x 2 Dual Band Wireless-AC Access Point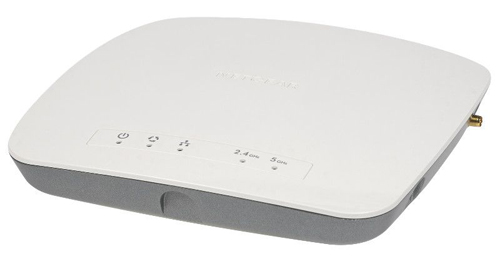 Sorry, this product is no longer available, please contact us for a replacement.
More pricing below, click here!

Please Note: All Prices are Inclusive of GST

Overview:
Quad Mode 802.11ac Wireless Access Point with Increased Range
The NETGEAR WAC720 ProSAFE Wireless Access Point is a high performance dual band 802.11ac AP supporting up to an aggregate throughput of 1.2 Gbps (300 Mbps for 2.4 GHz and 867 Mbps for 5 GHz). WAC720 Business Access Point operates in either standalone mode with an intuitive user interface or in Ensemble mode for centralized group management of up to 10 AP's of the same model. It is perfectly positioned for customers demanding high throughput, ultra-superior performance, and extensive coverage for deployment in small to medium enterprises, K-12 education, and mid-sized hospitalities. The WAC720 Wireless Access Point comes with lifetime warranty and 24x7 chat support to give user a piece of mind of uncompromising quality.
Double the speed and increase in coverage over entry level 802.11n access points
Reliable wireless coverage with 2 streams of data based on 2 x 2 (Transmit and Receive) optimized internal antennas
Compact and elegant design stylishly blends into the environment
Concurrent operation in 2.4GHz (300Mbps) and 5GHz (867Mbps) for maximum wireless throughput
Backward compatibility with 802.11a, 802.11b, 802.11g, and 802.11n network devices
Integrated Power over Ethernet (IEEE 802.3af PoE) lowers deployment costs
Ensemble mode management of up to 10 like Access Points without the need for a controller
Controller management by WC7600 and WC9500 allowing centralized management up to 600 Access Points in a cluster of controllers.
Business Central management allowing Access Point to be centrally managed with secured and flexible cloud platform.
Deploy wireless coverage over large areas with point-to-point and point-to-multipoint bridging via Wireless Distribution System (WDS)
Business-class security features include WPA, WPA2, rogue AP detection and 802.1x with RADIUS support
Easy mounting mechanism for quick wall or ceiling installation
Internal antennas factory-optimized for maximum RF performance
Antenna take-offs enable optional accessory antenna attachment for 2.4GHz and/or 5GHz operations
Features:
Designed for ultra-high speed, range, security, with simplicity in mind.
The ProSAFE WAC720 combines high-performance, 802.11ac performance with smartly designed multiple management modes (Standalone, Ensemble) with a user interface that is simple to use and ease to manage. A truly unified solution that brings centralized management without the complexity.
High Performance
Business class with superior 802.11ac performance (up to 1.2 Gbps)
2 x 2 (Transmit x Receive) with 2 streams of data for 2.4 GHz (300 Mbps) and 5 GHz (867 Mbps) of reliable data delivery
802.11ac beamforming to improve range, minimizes interference while maximizing data rates
Internal antennas for maximum RF performance
Supreme Business Value
Ensemble management for centralized management of up to 10 AP's in a single group
Integrated Power over Ethernet (IEEE 802.3af) lowers deployment costs
Bandsteering to load balance clients between 2.4 and 5 GHz
Industry leading affordability minimizes Total Cost of Ownership
Flexible Deployment
AC/DC power adapter provided as optional accessory
External antenna take-offs for optional 2.4 or 5 GHz antennas
Ceiling and wall mount for flexible mounting
Compact and elegant design stylishly blends into the environment
Ease of Use with Maximum Reliability
Ease of use with simple and intuitive graphical user interface
Comprehensive security with WPA and WPA2 and MAC address Access List
Lifetime warranty and 24 x 7 Support where available
Specifications:
NETGEAR WAC720 Specifications
Standards

IEEE 802.11ac Wave 1 standard
WMM Wireless Multimedia Prioritization
WDS Wireless Distribution System
Power over Ethernet (PoE) IEEE 802.3af/802.3at

Physical Specifications

Physical Dimensions (W x D x H): 197 x 197 x 40mm (7.76 x 7.76 x 1.57in)
Weight: 726g (1.6lb)

Physical Interfaces

One (1) 10/100/1000BASE-T Gigabit Ethernet (RJ-45) ports with Auto Uplink™ (Auto MDI-X) with IEEE 802.3af or 802.3at Power over Ethernet (PoE) support
Power adapter (not included): 12V DC, 2.5A; plug is localized to country of sale
One (1) console port with RJ45 Interface
Two (2) reverse SMA antenna connectors for dual band 2.4 and 5GHz external antennas (not included)
Five (5) LED: Power, Link/ACT, LAN, 2.4GHz, 5GHz

Security

WiFi Protected Access (WPA, WPA2)
Wired Equivalent Privacy (WEP) 64-bit, 128-bit, and 152-bit encryption
IEEE 802.1x RADIUS authentication with EAP TLS, TTLS, PEAP
Wireless access control to identify authorised wireless network devices
MAC address authentication
VPN pass-through support
Secure SSH telnet
Security Sockets Layer (SSL) remote management login

Management

Ensemble Management for support of up to 10 Access Points in a single cluster
Remote configuration and management through Web browser, SNMP or telnet with command line interface (CLI)
SNMP management supports SNMP MIB II, 802.11 MIB and proprietary configuration MIB

Advanced Wireless Features

Bridge mode: Point-to-point wireless WDS mode
Bridge mode: Point-to-multipoint wireless WDS mode
Repeater mode
Adjustable Transmit Power Control (TPC)

Package Contents

ProSAFE Business Dual Band Wireless- AC Access Point (WAC720)
Ethernet cable
Ceiling and wall mount kit
Installation guide

Accessories

Power Adapters with plug localized to country of sales
PAV12V-100AUS (for Australia)
PAV12V-100EUS (for Europe, outside of UK)
PAV12V-100NAS (for North America)
PAV12V-100PRS (for China)
PAV12V-100UKS (for UK)

NETGEAR Warranty

NETGEAR ProSAFE Lifetime Hardware Warranty.
ProSUPPORT Lifetime Chat Technical Support (Remote diagnostics performed by our technical experts for prompt resolution of technical issues).
ProSUPPORT 90 days(24/7) Live Phone Technical Support during business hours.
Lifetime Next Business Day (NBD) Hardware replacement (See http:// onsite.netgear.com for coverage, availability and terms and conditions).
Diagram:
Target Applications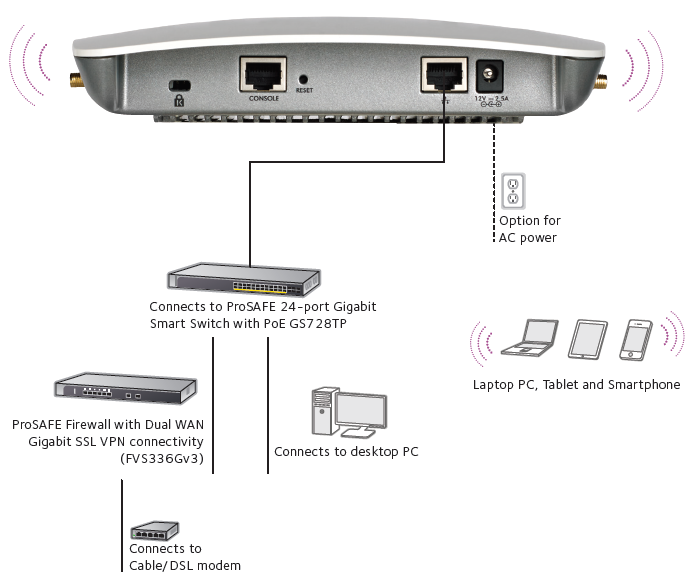 Pricing Notes:
All Prices are Inclusive of GST
Pricing and product availability subject to change without notice.
Netgear Products
NETGEAR Business Central
Cloud WLAN Mgmt 1 AP 12 months
Cloud WLAN Mgmt 1 AP 36 months
Cloud WLAN Mgmt 10 AP 12 months
Cloud WLAN Mgmt 10 AP 36 months
Cloud WLAN Mgmt 50 AP 12 months
Cloud WLAN Mgmt 50 AP 36 months
NETGEAR Business Wireless Accessories
Power Adapter for WAC720-100NAS & WAC730-100NAS