NETGEAR ReadyNAS 2312 Series

Industry's highest storage density in a 1U form factor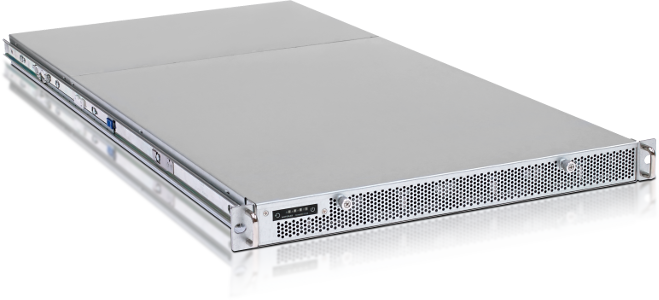 Sorry, this product is no longer available, Please contact us for a replacement.
Overview:
High Performance Rackmount Storage for Small Businesses
Data is one of the most valuable assets in any business. The sharing, storing, archiving and disaster recovery of data are critical elements in an IT infrastructure. In addition to these universal IT requirements, for a small and medium size business, scalability, ease-of-use and cost effectiveness are essential measurements in selecting the right storage solution.
The 2000 and 3000 series Rackmount ReadyNAS offer the ideal solution to a small and medium size business (SMB) that requires file serving and data backup to support workgroups of up to 40 employees. The ReadyNAS 2000 and 3000 class products run the same ReadyNAS OS and apps, while the 3000 class products offer higher performance and faster data throughput.
All ReadyNAS support the entire suite of features in ReadyNAS OS, including 5 levels of data protection, ReadyDR disaster recovery, and virtualized storage for VMware and other virtualized networks.
These Rackmount NAS models also come with the latest ReadyNAS OS 6.7 software for ultimate security and reliability. New features include Cloud backup to Amazon S3 (AWS) on top of Google Drive, Dropbox and Egnyte content management, 3D configuration tool, future-proof and safer Linux 4.4, unique RAID and Volume management for more reliable storage, and many more business features that enables the ultimate business features in ReadyNAS. Yield the benefits of the latest industrial and software design from NETGEAR with ReadyNAS storage.
All Inclusive Solution for Data Sharing, Storing & Securing
| | |
| --- | --- |
| File Sharing: Unified storage platform for sharing files between Windows, Mac and Linux-based computers | Backup & Recovery: ReadyDR disaster recovery solution based on block level replication technology |
| Hard Drive Redundancy: RAID redundancy with automatic expansion and unlimited data snapshots for point-in-time restore. | App Managed: Easily manage your ReadyNAS from the palm of your hand with NETGEAR Insight app |
| Cloud Collaboration: Share selected folders and files with ReadyCLOUD with partners, clients or internal teams | Virtualization: Thin provisioning, iSCSI support and certified with VMware |
Key Business Features
| | |
| --- | --- |
| Automatic Backup & Sync: Using the ReadyCLOUD app for PC, scheduled protection is easier than ever before | Cloud-managed Replication: Maintain data sets in multiple locations or ensure protection of data from remote or branch office locations |
| Bit Rot Protection: A proprietary technology protecting your files from unplanned degradation | iSCSI and Thin Provisioning: Powerful tools for a business taking advantage of virtual infrastructures |
| Unlimited Snapshots: Unlimited data snapshot capability for on-box protection and flexible data recovery | Anti-virus & Encryption: Keep data protected from outside threats and safe from prying eyes |
| X-RAID & Instant Provisioning: Easily expand capacity and feel confident knowing that data is always protected | Modern GUI and Cloud/Remote Access from Anywhere: Sleek modern interface and patented technology for secure remote access without configuration effort |
Specifications:
Hardware
ReadyNAS 2304
ReadyNAS 2312
ReadyNAS 3138
CPU
Intel Celeron Dual Core 2.0GHz
Intel Atom Quad Core C3538 2.1GHz with QuickAssist
Intel Atom Quad Core 2.4GHz with QuickAssist
Memory
2GB
2GB DDR4
4GB ECC UDIMM
Drive Bays
4
12
4
Drive Types Supported
SATA/SDD 2.5" or 3.5"
SATA 3.5"
SATA/SSD 2.5" or 3.5"
Hot Swappable Drives
Yes
Yes
Yes
Max Raw Internal Capacity (Based on 10TB drives):
40TB
120TB
40TB
eSATA Ports
0
0
2
Gigabit LAN Ports
2
4
4
USB Ports
3 x USB 3.0
2x USB3.0
1 x USB 2.0, 2 x USB 3.0
Display Port (4k)
1
0
0
Power Supply
Internal 180W: input 100-240V AC, 50/60Hz
Internal 350W: input 100-240V AC, 50/60Hz
Internal 180W: input 100-240V AC, 50/60Hz
Fan (mm)
3 x 40
5 x 40
3 x 40
Dimensions DxWxH (mm)
Without rackmount brackets
With rackmount brackets

308 x 430 x 44
308 x 485 x 44

924 x 486 x 44
934 x 486 x 44

406 x 430 x 44
406 x 486 x 44
Weight (kg)
4.19
Machine weight: 13kg
Rackmount brackets weight: 1.9kg
5.21
Chassis Warranty
5 years with NBD HW Replacement
5 years with NBD HW Replacement
5 years with NBD HW Replacement
Software and Functionality
ReadyNAS 2304
ReadyNAS 2312
ReadyNAS 3138
Certification and Compatibility
VMware vSphere ESXi 6.0
VMware vSphere ESXi 6.0
Cloud-discovery, Setup and Management
Yes
Yes
Yes
Data Protection with Unlimited Snapshots
Yes
Yes
Yes
Web-managed Replication for Disaster Recovery
Yes
Yes
Yes
Real-time Antivirus
Yes
Yes
Yes
iSCSI and Thin Provisioning
Yes
Yes
Yes
ReadyDR
Yes
Yes
Yes
Insight App Management
Yes
Yes
Yes