NETGEAR 4-Stream AX1800 WiFi 6 Router

Leading the New Era of WiFi 6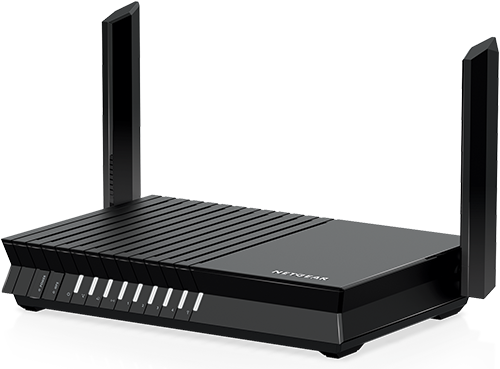 Sorry, this product is no longer available, Please contact us for a replacement.
More pricing below, click here!

Please Note: All Prices are Inclusive of GST
Overview:
The NETGEAR 4-Stream AX1800 WiFi 6 Router, built with the latest generation WiFi 6 technology, provides greater capacity to handle more devices on your network and speeds up to 1.8Gbps, ensuring that you can enjoy blazing fast Internet connections on all your devices. This next-gen router is recommended for small to medium homes, up to 1,500 sq. ft., with 20 or more connected devices. Powerful quad-core processor ensures superior performance for concurrent real-time applications such as multimedia streaming, online gaming and audio/ video chats. With NETGEAR Armor, you get the best-in-class cybersecurity to protect your family from malware, stolen passwords, identity theft, and hacker attacks. Upgrade to the latest WiFi 6 technology and have the peace-of-mind that your WiFi is set for years to come. This router is also wall-mount capable, giving you more options on where to place your router.
NETGEAR Armor™ - Advanced cyber threat protection for your home and your connected devices.
Extremely fast WiFi-Up to 1.8Gbps (600 + 1200 Mbps†) wireless speeds.
Improved Capacity-Wi-Fi 6 uses OFDMA to improve capacity and efficiency of your network, so more devices can connect without slowing down your WiFi.
Powerful Quad-Core Processor-Smooth 4K UHD streaming to Smart TVs, mobile devices and gaming consoles.
5 Gigabit Ports-Connect more wired devices for faster file transfer and uninterrupted connections with 1 WAN & 4 LAN ports
Nighthawk App-Easily set up your router and get more your of your WiFi.
Automatic Firmware Updates - Latest security patches delivered to the router.
Works with Existing WiFi Devices - Backward compatible with Wi-Fi 5 (802.11ac) and earlier generation WiFi standards.
Works with Amazon Alexa™ and the Google Assistant.
Supports WPA3, the latest and cutting-edge Wi-Fi security protocol
USB 3.0 PORT-Faster streaming, backup and easy access to your stored media
Ideal Uses
Reliable Smart Home Connectivity
Wi-Fi 6 features simultaneous dual band support, making it ideal for multiple IoT devices in our connected homes. Your WiFi will stay strong and reliable, even with more WiFi devices on your network from the sensor-based low-bandwidth devices to high-end video streaming.
Smoother UHD 4K Streaming
Watch ultra-HD 4K videos on your smart TV while your famly games online and uploads pictures from their smartphones. Streaming from Netflix or YouTube has never been so smooth.
WiFi 6-Ready for Today and Tomorrow's Smart Home
Delivering four times better performance than AC WiFi, WiFi 6 allows more devices to connect and stream simultaneously, without impacting speed or reliability, by efficiently packing and scheduling data. With innovative technologies, such as Orthogonal Frequency-Division Multiple-Access (OFDMA) and intelligent scheduling, WiFi 6 delivers a huge boost in speed and total capacity. Rising to the challenges of modern smart home demands, this new standard of WiFi is ready to support more devices with better reliability and faster speeds.
Capacity
WiFi 6 gives you improved network capacity for more WiFi devices. Have more fun with the uninterrupted 4K streaming, gaming, and the smart home experience.
Speed
Get ultra-fast wireless speeds with more connections for all devices with less congestion. You'll get some blazing connection speeds of more than one gigabit per second or more, 4K streaming, & VR/AR gaming.
Range
Experience reliable and stronger WiFi coverage indoors and outdoors for all your devices. High-performance antennas, pre-optimized for best peformance, on the router amplify WiFi signals for maximized range and reliable coverage.
4-Stream WiFi - Connect, Stream and Download Faster
More WiFi streams means more available bandwidth and less congestion for all the devices in the WiFi network. The Nighthawk AX4 provides consistent and powerful signal strength to multiple devices at the same time so you can enjoy smooth gaming and 4K UHD video streaming, faster file transfers and backups.
NETGEAR Armor
NETGEAR Armor empowers you to eliminate vulnerabilities or simply know the status of your home network and devices, anytime, anywhere. Get instant notifications when malicious threats are detected, block unknown devices from joining your home network or take action on vulnerabilities as they are discovered easily through the Nighthawk App.
Improved Network Capacity for More WiFi Devices
Orthogonal Frequency-Division Multiple Access (OFDMA) enables efficient data scheduling so that more transmissions can be sent at the same time, resulting in an impressive capacity increase in your network. This increased or available bandwidth allows you to add more devices to your network. The AX1800 WiFi 6 Router supports uplink and downlink OFDMA to efficiently use air-time with better frequency reuse, reduced latency, and increased network efficiency. This is extremely useful for latency sensitive applications such as virtual reality (VR), augmented reality (AR) and Internet of things (IoT) sensors.
Powerful Performance at Core
The AX1800 WiFi 6 Router is powered by a quad-core processor designed to transfer gigabits of data with almost zero CPU load. Robust processing power provides the best performance across all wired and wireless interfaces. The quad-core processor ensures superior performance for connect real-time applications such as multimedia streaming, online gaming, and audio/video chats.
Nighthawk App
The Nighthawk App makes it easy to set up your router and get the most out of your WiFi. With the app, you can install your router in few steps-just connect your mobile device to the router network and the app will walk you through the rest. Once set up, you can use the intuitive dashboard to manage your connected devices.
Remote Management-Easily monitor your home network anytime, anywhere
Internet Speed Test-Check the broadband speeds from your service provider
Traffic Meter-Track Internet data usage
Guest Networks-Set up separate WiFi access for guests
Quick Setup-Get connected in just minutes
Get it at nighthawk-app.com
Features:
Speed
Speed makes HD video better. Speed makes online gaming awesome. Speed makes all your devices really go. And anyplace you need speed, with NETGEAR you got it. Extreme download speeds up to 600+1200Mbps. Uses Wi-Fi 6 (802.11ax) with dual band technology providing whole home coverage with Gigabit wired and wireless connection. Everything you need for a fast, fast, fast connected home.
1.5X BETTER PERFORMANCE THAN AN AC ROUTER-4 stream WiFi with up to 1.8Gbps† for fast wireless speeds
EXTREMELY FAST WIFI-Up to 600+1200Mbps
4 GIGABIT ETHERNET LAN PORTS-Connect more wired devices for faster file transfer and uninterrupted connections
SUPERSPEED USB 3.0 PORT -Up to 10x faster than USB 2.0
WiFi Range
Homes come in all shapes and sizes. The 4-Stream AX1800 WiFi 6 Router with additional high-power external antennas provides WiFi connectivity throughout your home for all your Internet-enabled devices.
BETTER RANGE-Wireless coverage for small to medium homes
ANTENNAS-Great range with external antennas for best connectivity
Sharing
Relive memories and share them with others. Stream 4K UHD content to more devices at the same time with 4-Stream WiFi. If it's secure and shared storage access you want NETGEAR has easy ways to do it.
4-STREAM WIFI-Stream 4K UHD content to more devices at the same time
USB 3.0 PORT-Faster streaming, backup and easy access to your stored media
Reliable Connections
Stay connected-with your devices, your media, and your friends. Simultaneous dual band WiFi provides two separate WiFi networks-2.4GHz for legacy devices and 5GHz which is less interference-prone for media streaming. OFDMA technology provides faster WiFi download & upload speeds by transmitting to multiple devices at the same time.
POWERFUL PROCESSOR-Quad-core processor ensures smooth 4K UHD streaming
SIMULTANEOUS DUAL BAND WIFI-Reduces interference for better connections to more WiFi devices
MORE WIFI FOR MORE DEVICES-OFDMA§ allows efficient data transmission at the same time
Ease Of Use
Start enjoying your new device faster than ever. NETGEAR wants to make sure installation and management is simple & easy, so you can connect quickly & make sure you stay that way!
EASY INSTALL-Easy setup for iPad, tablets, smartphones & computers
NIGHTHAWK APP-Easily set up and monitor your home network
WIFI 6 SUPPORTS CURRENT WIFI DEVICES-Backward compatible with earlier WiFi generation devices
VOICE CONTROL-Control your NETGEAR WiFi network with simple voice commands using Amazon Alexa & the Google Assistant
Security
Maintain high security across your network to ensure your privacy & family is safe while online. Whether it's preventing phishing & spyware, NETGEAR has you covered.
NETGEAR ARMOR™-Cybersecurity for your home††. Advanced cyber threat protection for your home network and your connected devices
VPN SUPPORT-On PC, MAC, & now also with OpenVPN Connect app on iOS & Android, securely access your home network & Internet connection from your mobile device remotely
GUEST NETWORK ACCESS-Separate & secure access for guests
LATEST SECURITY STANDARD-Supports WPA3 the latest and cutting-edge Wi-Fi security protocol
AUTOMATIC FIRMWARE UPDATE-Delivers latest security patches to the router
Connection Diagram: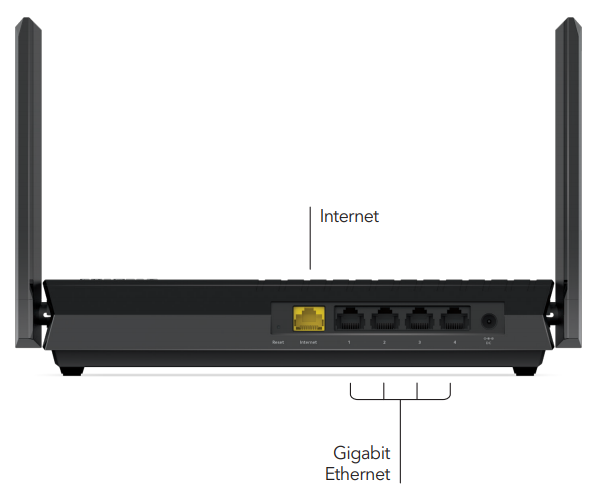 WiFi 6:
WiFi 6 for business and home office
NETGEAR has been at the forefront of innovation and cutting-edge solution for more than 20 years, providing innovative and ground-breaking network solutions which include a suite of advanced WiFi 6 products - giving you access to the most advanced WiFi on the planet.
WiFi 6 overcomes these challenges
Coverage and range, especially through walls in blind spots
Need for faster and easier set up
Network and per device speed, especially with more devices
Demand for security and access control
Need for smooth configuration and firmware updates
WiFi 6 for Business
Why are businesses adopting WiFi 6?
Best WiFi Speed - 70% more throughput than WiFi 5
Connect More Devices - optimized speed even in high density areas
Improved Coverage
Future-Proofing
Compatibility
Battery Efficiency
Seamless Roaming
Faster Backbone with 2.5G - Multi-gig networking and connectivity
High Density IoT
Safer Networks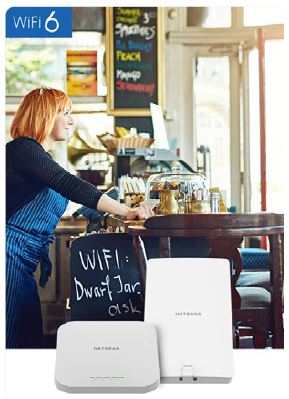 Remote WiFi 6 Management
Most NETGEAR WiFi 6 business access points include NETGEAR Insight, the award-winning remote cloud management solution for easy installation, monitoring, and management from anywhere.
NETGEAR Insight is an industry first in network management, providing easy plug-and-play setup and management. Its cloud portal can be accessed via an intuitive web interface or the Insight mobile app. Insight offers a wide variety of configuration options for the most basic networks to multi-tenancy and multi-roles.
NETGEAR Insight enables easy configuration, monitoring, and management of your wireless access points together with Insight-managed switches and storage. Wireless management features include: Instant WiFi for automatic wireless configuration to limit interferences, frequency band selection, VLAN creation and association with SSID, WiFi security configuration, visibility into WiFi clients, reporting, and many more.
Use cases
Who is upgrading to WiFi 6?
Sharing a WiFi connection with the rest of the family as people are working from home, video calling or downloading large files can slow everyone down. WiFi 6 is optimized for concurrent users.
As medicine moves toward more innovative technologies for imaging, record storage, and telehealth, it requires more bandwidth. Upgrading to WiFi 6 helps ease high demand and provide efficiency.
Older, legacy WiFi systems have slow bandwidth lack device capacity and less secure connections. WiFi 6 can meet growing demand for connectivity across all the technology and devices the industry depends on.
As wireless handheld Point of Sale devices increase in use so does the need for suffcinet bandwidth and total site coverage. WiFi 6 can meet those growing demands.
Libraries, city halls, police offices and the public sector in general are becoming more technologically advanced and reliant on WiFi and need the bandwidth capacity and efficiency it offers.
The increase in video streaming, online with WiFi 6 greatly improve student's and teacher's educational experiences.
From AI assembly line robots to autonomous delivery trucks, most or all new machinery and loT will require high bandwidth and capacity.
Finance companies need high bandwidth and zero-delay streaming to meet the needs of daily stock market traders and demanding finance apps. WiFi 6 can keep up with these demand.
Houses of worship need great network conncetivity to make sure everything runs smoothly for the team and improve the congregation's experince. Reliability, simplicity and affordability are high priorities. WiFi 6 checks all those boxes.

The WiFi 6 Difference
Increased speed, coverage, and capacity for today's WiFi demands
Speed
Up to 70% faster speeds on both bands
Coverage
Up to 50% more coverage, with no dead zones
Device Capacity
More simultaneous users, with high WiFi quality for everyone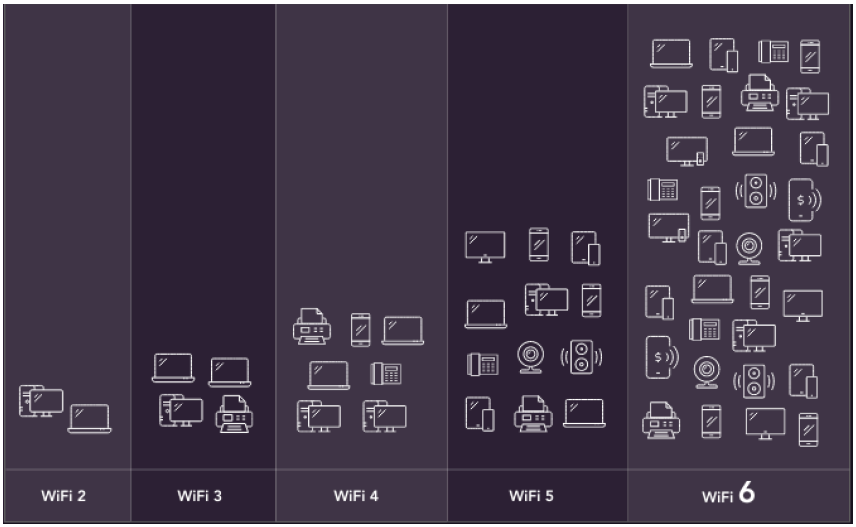 Specifications:
Technical Specifications
WiFi Technology
802.11ax Dual Band WiFi (AX1800)
WiFi Performance
AX1800 WiFi
WiFi Range
Small to medium homes
WiFi Band
Simultaneous dual band 2.4 & 5GHz
Number of Ethernet Ports
Five (5) 10/100/1000 Mpbs Gigabit Ethernet ports (1 WAN & 4 LAN)
Processor
Quad-core processor
Key Features

NETGEAR Armor™ - Advanced cyber threat protection for your home and your connected devices*
1.5x Better Performance than an AC Router-4-stream WiFi with up to1.8Gbps† for fast wireless speeds.‡
More WiFi for More Devices-OFDMA§ allows efficient data transmission at the same time.
Powerful Processor-Quad-Core processor ensures smooth 4K UHD streaming.

Security

Standards-based WiFi Security (802.11i, 128-bit AES encryption with PSK)
Automatic firmware update delivers latest security patches to the router
VPN Support-Secure access to your home network away from home

Dimensions
9.96 x 6.06 x 1.69 in (253 x 154 x 43 mm)
Weight
1.23lbs (558.4g)
Package Contents

4-Stream AX1800 WiFi 6 Router (RAX20)
Ethernet cable
Quick start guide
Power adapter, localized to country of sale

Standards

2.4GHz: 600Mbps, 40/20 MHz 1024/256-QAM
5GHz: 1200Mbps, 80/40/20 MHz 1024-QAM
Five (5) 10/100/1000Mbps-(1 WAN & 4 LAN) Gigabit Ethernet ports

System Requirements

Microsoft Windows 7, 8, 10, Vista, XP, 2000, Mac OS, UNIX, or Linux
Microsoft Internet Explorer 11 or higher, Microsoft Edge, Google Chrome™ 55 or higher, Firefox 45 or higher, Safari 10 or higher
† Maximum wireless signal rate derived from IEEE 802.11 specifications. Actual data throughput and wireless coverage will vary and may be lowered by network and environmental conditions, including network traffic volume and building construction. NETGEAR makes no representations or warranties about this product's compatibility with future standards.
‡ As compared to an AC1200 2x2 router.
§Requires compatible AX clients with DL-OFDMA and UL-OFDMA support.
*NETGEAR Armor requires a paid subscription after the initial introductory period
Pricing Notes:
All Prices are Inclusive of GST
Pricing and product availability subject to change without notice.