NETGEAR Mobile Broadband


Mobile Routers Advance The Way You WiFi On The Go
Elevate your mobile broadband experience to unparalleled new heights with an ultimate LTE device. A mobile router is a mobile hotspot plus a whole lot more - connect up to 20 WiFi devices, take your media with you and stream to all your devices, and offload to WiFi or Ethernet when you make a stop. Mobile Routers are the perfect travel companions for business or personal adventures.
Hot Spots Keep You Cool Under Pressure
Don't get hot under the collar trying to connect to public WiFi when you can turn your mobile connection into a hotspot for up to 15 WiFi devices. Keep working. Stay in touch. Be entertained. NETGEAR AirCard Mobile Hotspots are perfect for road warriors.
3G or 4G - Put G-Force In Your Mobility
NETGEAR Mobile Broadband Routers give you the power of 3G and the latest 4G LTE speed for sharing WiFi connectivity wherever you are on the road. Connect more WiFi devices for mobile business, remote locations, events and RVs.
Mobile Connection From Your USB Port
Get online without WiFi using your AirCard USB Modem. Computers, laptops, PC or Mac - no card slot is needed. Just pop the modem into your USB port and use your mobile account to keep business rolling along. Available for 3G and 4G LTE networks.
LTE Modems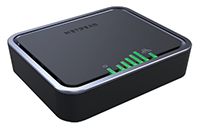 4G LTE speeds with 3G fallback-Up to 150 Mbps downloads
Connect optional 4G/3G antennas for better signal reception
AT&T Network-Ready device