NETGEAR M6100-44G3-POE+

Chassis Starter Kit Bundle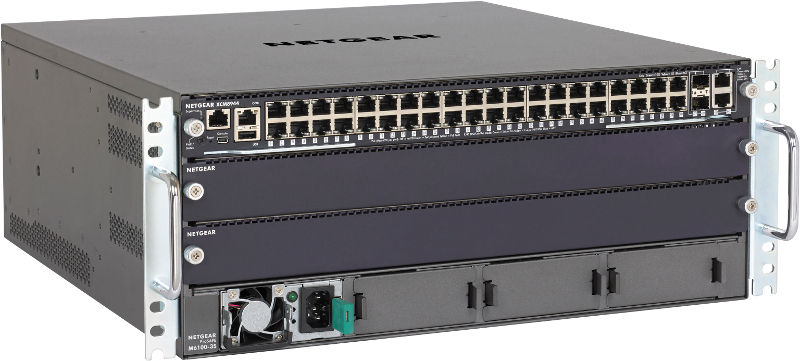 Netgear Products
NETGEAR Managed Switches
M6100-44G3-POE+ Starter Kit
*Includes a Life Time Hardware Warranty, 90 Days of Free Tech Support, and Lifetime Online Tech Support
More pricing below, click here!

Please Note: All Prices are Inclusive of GST
Overview:

The NETGEAR® LAN Access and Aggregation Chassis M6100 series delivers L2/L3/L4 and IPv4/IPv6 rich services for enterprise edge and SMB core deployments, as well as 1G/10G mixed infrastructures in server rooms. Innovative distributed fabric provides non-stop forwarding resiliency and world-class availability - including passive backplane, hitless failover, redundant fabric and redundant management - without having to pay the exorbitant acquisition and maintenance costs associated by other networking vendors in this class. NETGEAR Lan Access and Aggregation Chassis Switch solutions combine the latest advances in hardware and software engineering for higher flexibility, lower complexity and stronger investment protection, at a high-value price point.
Highlights
Word-class availability
Dependable continuity of operations with non-stop switching, non-stop routing and hitless failover supported for both fabric and management
N+1 redundancy for power supplies and loop-free, disruption-free multi-chassis link aggregation (MLAG)
High speed performance
1.4 Tbps total routing/switching capacity and up to 1,071 Mpps intra-blade throughput
480 Gbps distributed fabric inter-module with each slot providing 2 x 40G access to the passive backplane (80G half-duplex; 160G full-duplex)
Extra high-density
Only 4U height (7 inches - 17.59cm) and 17.39 inches depth (44.16cm)
Supports 144 RJ45 10/100/1000 ports, or 120 SFP 100/1000 ports, or 72 RJ45 10GBASE-T ports, or 48 SFP+ 1000/10GBASE-X ports, or a combination
Higher flexibility
Distributed fabric removes the need for a dedicated supervisory module yet provides passive backplane, redundant fabric and redundant management
Any I/O blade spares hardware and software distributed fabric on board, facilitating campus management, maintenance and upgrades
Lower complexity
Entire feature set including datacenter (DCBX, PFC, ETS, FIP Snooping) and advanced IPv6 L3 routing (OSPF, PBR, BGP) is available without a license
Innovative slot-1 supervisory and slot-2 backup supervisory design simplifies the entire chassis installation and ongoing maintenance tasks
Investment protection
Multi-role versatile platform engineered for cost-effective Gigabit edge, flexible Gigabit/10 Gigabit distribution and scalable 10 Gigabit core applications
Any Gigabit copper blade can be upgraded with PoE+ 30W or UPOE 60W daughter card and downgraded later if the application has changed
Industry standard management
Industry standard command line interface (CLI), functional NETGEAR web interface (GUI), SNMP, sFlow and RSPAN
Single-pane-of-glass NMS300 management platform with centralized firmware updates and mass-configuration support
Industry leading warranty
NETGEAR M6100 series is covered under NETGEAR ProSafe Lifetime Hardware Warranty*
90 days of Technical Support via phone and email, Lifetime Technical Support through online chat and Lifetime Next Business Day hardware replacement
Features:
The M6100 switch series consists of Gigabit access layer and 10 Gigabit distribution layer switches in the NETGEAR modular chassis switch product line. The M6100 switch series offers high-quality, high-density chassis alternative to stackable switches in campus LAN and midsize organizations demanding networks. With more than 1.4 Tbps switching and routing capacity, passive backplane, management and fabric nonstop forwarding redundancy, the M6100 series delivers world-class resiliency and scalability. Ultimately, operating software and system management features take the complexity out of delivering L2/L3/L4 rich services for enterprise edge and SMB core deployments.
NETGEAR M6100 series key features:
Proficient access layer in campus LAN networks, and competent distribution or core layer for midsize organizations networks
Advanced Layer 2, Layer 3 and Layer 4 feature set - no license required - including PBR, BGP, DCBX, PFC, ETS and FCoE FIP
Innovative distributed fabric, with nonstop forwarding and hitless failover redundancy between supervisory I/O modules
Up to 144 (Gigabit) ports, or 72 (10 Gigabit) ports, or a combination of both in dense form factor models
PoE+ (30 watts per port) and UPOE (60 watts per port) modular, flexible implementation
Ultra-low latency and scalable table size with 32K MAC, 8K ARP/NDP, 4K VLANs, 12K routes
NETGEAR M6100 series PoE features:
Any Gigabit copper blade can receive PoE+ or UPOE daughter cards for easy upgrade/downgrade and best investment protection
Up to 3,000W PoE budget is provided by internal power supplies when 6,000W are available with additional 1U power shelf
All set for rapid proliferation of PoE/PoE+ devices, such as IP telephony endpoints, 802.11n / 802.11ac access points and IP security cameras
Future-proof 60W UPOE power delivered to next-gen VDI clients or physical security devices; UPOE is backward compatible with PoE/PoE+
NETGEAR M6100 series software features:
Advanced classifier-based, time-based hardware implementation for L2 (MAC), L3 (IP) and L4 (UDP/TCP transport ports) security and prioritization
Voice VLAN with SIP, H323 and SCCP protocols detection and LLDPMED IP phones automatic QoS and VLAN configuration
Efficient authentication tiering with successive DOT1X, MAB and Captive Portal methods for streamlined BYOD
Best-in-class IPv4/IPv6 static and dynamic routing including Proxy ARP, OSPF, BGP, Policy-based routing and automatic 6-to-4 tunneling
Enhanced IPv4/IPv6 multicast forwarding with IGMPv3/MLDv2 Querier and Control Packet Flooding protection
High performance IPv4/IPv6 multicast routing with PIM timer accuracy and unhandled PIM (S,G,rpt) state machine events transitioning
Advanced IPv4/IPv6 security implementation including malicious code detection, DHCP Snooping, IP Source Guard protection and DoS attacks mitigation
Innovative multi-vendor Auto-iSCSI capabilities for easier virtualization optimization
Datacenter-ready features include DCBX (802.1Qaz), Priority Flow Control (PFC), Enhanced Transmission Selection (ETS) and FCoE FIP Snooping
NETGEAR M6100 series resiliency and availability features:
Passive backplane, distributed redundant fabric and redundant management provide hitless, nonstop forwarding failover protection for always-on availability
Redundant N+1 power protection contributes to business continuity management
Distributed Link Aggregation across all I/O blades allows for multiresiliency and advanced load balancing capabilities
Multi Chassis Link Aggregation (MLAG) between two M6100 switches overcomes limitations of Spanning Tree, increasing bandwidth while preserving redundancy
Per VLAN Spanning Tree and Per VLAN Rapid Spanning Tree (PVSTP/ PVRSTP) offer interoperability with PVST+ infrastructures
NETGEAR M6100 series management features:
DHCP/BootP innovative auto-installation including firmware and configuration file upload automation
Industry standard SNMP, RMON, MIB, LLDP, AAA, sFlow and RSPAN remote mirroring implementation]\
Selectable service port for out-of-band Ethernet management (OOB)
Selectable standard RS232 straight-through serial RJ45 and Mini-USB ports for local management console
Standard USB port for local storage, logs, configuration or image files
Dual firmware image and configuration file for updates with minimum service interruption
Industry standard command line interface (CLI) for IT admins used to other vendors commands
Fully functional Web console (GUI) for IT admins who prefer an easy to use graphical interface
Single-pane-of-glass NMS300 management platform with massconfiguration support
NETGEAR M6100 series warranty and support:
NETGEAR ProSAFE Lifetime Hardware Warranty*
Included Lifetime Technical Support
Included Lifetime Next Business Day Hardware Replacement
At a Glance:
Software at a Glance
LAYER 3 PACKAGE
Model Name
Management
IPv4/IPv6 ACL and QoS, DiffServ
IPv4/IPv6 Multicast Filtering
IPv4/IPv6 Policing and Convergence
Spanning Tree Green Ethernet
VLANs
Trunking Port Channel
IPv4/IPv6 Authentication Security
IPv4/IPv6 Static Routing
IPv4/IPv6 Dynamic Routing
Datacenter Features*
Model Number
M6100-3S
Out-of-band; Web GUI; HTTPs CLI; Telnet; SSH
SNMP, MIBs RSPAN
Ingress/egress
1 Kbps shaping Time-based
Single Rate Policing
IGMPv3 MLDv2 Snooping + Querier
Control Packet Flooding
Auto-VoIP
Auto-iSCSI
Policy-based routing (PBR)
LLDP-MED
STP, MTP, RSTP
PV(R)STP*
BPDU/STRG Root Guard
EEE (802.3az)
Static, Dynamic, Voice, MAC
GVRP/GMRP
QinQ,
Private VLANs
Distributed LAG across all I/O slots
MLAG across two chassis switches
Successive Tiering
(DOT1X; MAB; Captive Portal)
DHCP Snooping
IP Source Guard
Port, Subnet, VLAN routing, DHCP Relay;
Multicast static routes;
Stateful DHCPv6 Server
IPv4: RIP, VRRP
IPv4/IPv6: OSPF, BGP*, Proxy ARP, PIM-SM PIM-DM, 6-to-4 tunnels
DCBX (802.1Qaz) Priority Flow Control (PFC) Enhanced Transmission Selection (ETS) FCoE FIP Snooping
XCM8903
* CLI only
Performance at a Glance
TABLE SIZE
Model Name
Passive Backplane
Fabric Speed
Routing/Switching Capacity
Throughput
High Availability
Packet Buffer CPU Latency
MAC; ARP/NDP VLANs; DHCP
Application Route Scaling
Multicast IGMPGroup Membership
IP Multicast Forwarding Entries
sFlow
Model number
M6100-3S
Each Slot provides 2 x 40G access to the backplane
80G half-duplex 160G full-duplex per slot
480 Gbps InterModule
Distributed Fabric
1.4 Tbps Intra-Module
Each LineCard provides local line-rate capacity
357 Mpps InterModule
1,071 Mpps IntraModule
Dual Supervisory Modules
Fabric and Management Nonstop Forwarding Failover (NSF)
1G/10G Blades: 32Mb/72Mb Packet Buffer CPU 800 Mhz 1GB RAM 64MB Flash Latency 3.7µs 10G RJ45 1.5µs 10G SFP+
32K MAC 8K ARP/NDP ARP: 1.2kpps
4K VLANs
DHCP: 4K leases in 256 pools
Static: 512
RIP: 512
OSPF and BGP: 12,000 routes
2K IPv4
2K IPv6
1.5K IPv4
512 IPv6
32 samplers
52 pollers
8 receivers
XCM8903
Each Line Card provides line-rate switching and routing capacity. Each Slot provides 2 x 40G channels (80G half-duplex /160G full-duplex) access to passive backplane.
Deployment:
Target Application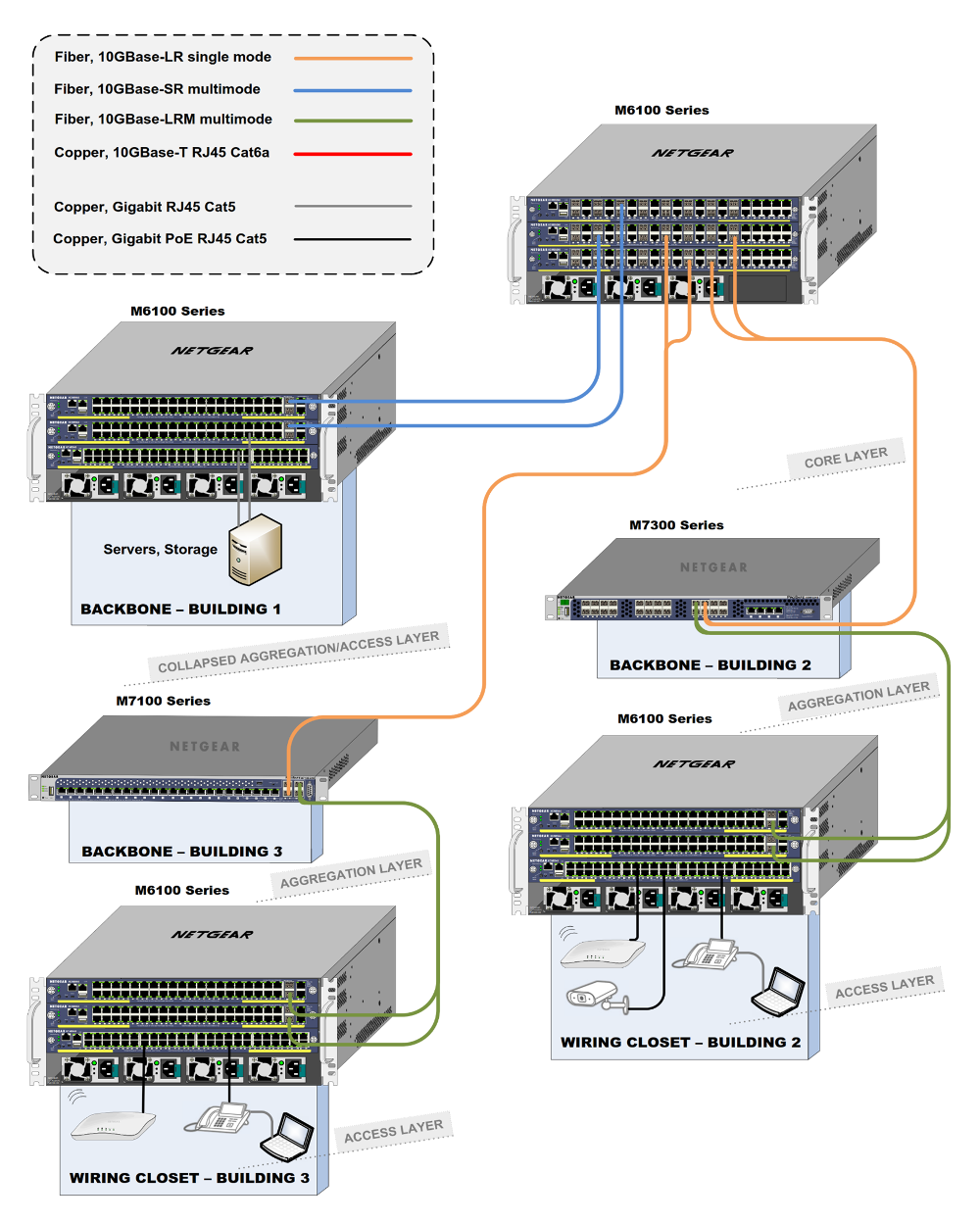 Chassis Standards Redefined
The new ProSAFE M6100 Chassis series is set to shake up how SMBs deploy high performance, highly resilient, fully redundant and future proof switched networks from the Core to the Edge - without hurting or exhausting IT budgets.
Get started today with NETGEAR M6100 series
Offering the densest Gigabit and 10G port solution in a 4U footprint, the M6100 is a fully distributed fabric, passive backplane solution with full management and power redundancy - as standard. UPOE capability extends its potential and delivers true investment protection to leverage today and tomorrow's evolving powered devices.
An ideal platform for virtualized, convergence and surveillance environment
Designed for use at the center of a small to mid-sized organization, or as an aggregated or access solution in a larger campus or mid-sized enterprise branch network, the application scenarios for the M6100 are both wide and diverse. For those who require a resilient Gigabit connectivity option to the desktop or 10G for virtualized server and storage needs through to large IP camera surveillance environments, the M6100 provides the markets fastest backplane speeds with hitless failover to deliver enterprise grade service levels excellence for SMBs.
All the hallmarks of a chassis with associated benefits but at fixed stackable price points
Integrated supervisor blades - NO need for separate or spare supervisor blades. Slot 1 is the primary supervisor with slot 2 the default back-up supervisor
PoE/PoE+/UPOE flexibility - NO separate PoE blades required. Simply add PoE daughter cards to any Gigabit blade to introduce PoE as and when required
480Gbps inter-module backplane performance - NO performance compromise. With up to 10 x performance of fixed stackable solutions with similar port counts, value performance ratios are unrivalled
Distributed fabric, passive backplane - NO single point of failure with management and power backup and distributed link aggregation across multiple chassis arrangements
L2/L3/L4 routing as standard - NO additional licensing costs or annual maintenance contracts to inflate prices and jeopardise sales
Class leading support services as standard
All M6100 Chassis series products come with Lifetime Warranty, Lifetime Next Business Day and Lifetime Technical online support included - at no extra cost
* This product comes with a limited warranty that is valid only if purchased from a NETGEAR authorised reseller and modifications to product may void the warranty; covers hardware, fans and internal power supplies - not software or external power supplies. Lifetime technical support includes basic phone support for 90 days from purchase date and lifetime online chat support when purchased from a NETGEAR authorised reseller.
Pricing Notes:
All Prices are Inclusive of GST
Pricing and product availability subject to change without notice.
Netgear Products
NETGEAR Managed Switches
M6100-44G3-POE+ Starter Kit
*Includes a Life Time Hardware Warranty, 90 Days of Free Tech Support, and Lifetime Online Tech Support
NETGEAR Modules
M6100 Module 40x1G and 4x10G
M6100 Module 40xSFP and 4x10G
M6100 POE+ Daughter Card XCM8944 & XCM8948
M6100 UPOE Daughter Card XCM8944 & XCM8948
NETGEAR ProSUPPORT - Learn More
ProSUPPORT Category 4, 1-Year Contract
ProSUPPORT Category 4, 3-Year Contract
ProSUPPORT Category 4, 5-Year Contract