NETGEAR JFS524

ProSafe 24-Port Fast Ethernet Unmanaged Switch

Sorry, this product is no longer available, replaced by the GS324-200NAS.
Overview:
The NETGEAR Fast Ethernet Unmanaged Switches series are purposely designed, well built and rigorously tested for small and medium-sized networks where reliability and performance are the keys while Plug-N-Play connectivity and operational cost savings are the must-haves. With a 1U form factor, they can be placed on the desktop or rack-mounted with the included rack-mount kit for professional installation.
The JFS516 and JFS524 come with 16 and 24 ports 10/100Mbps copper ports respectively. They offer energy efficiency features and are compliant with the IEEE 802.3az standard. Both models are fanless for silent operation, business class rugged, and come with a lifetime warranty.
Highlights
Instant Network Connectivity for Your Small Business and Home Office
Non-blocking switching architecture forwards and filters packets at full wire-speed for maximum throughput
Up to 24 ports, each delivering up to 200Mbps of dedicated network bandwdith to servers, PCs and newtork devices
Energy Efficient Ethernet (IEEE802.3az) for optimized power saving
Rugged metal case and fanless design for reliable and silent operation
Business-Class, Built with Performance and Reliability
Plug-and-play-begins working as soon as it's powered on
Auto MDI/MDI-X automatically adjusts for straight-through or crossover cables
Auto Sensing and IEEE 802.3 Nway Auto Negotiation
IEEE 802.3x Flow Control
IEEE 802.1p QoS for traffic prioritization
Intelligent LEDs for port link status and activity
Compact size for the desktop or for mounting in a standard 19 -inch rack
Backed by a NETGEAR Lifetime Warranty
Specifications:
Specifications
JFS516
JFS524
Features
Ethernet Speed
10/100Mbps Fast Ethernet
10/100Mbps Fast Ethernet
Number of ports
16
24
Short cable power saving
Yes
Yes
Energy Efficient Ethernet Support IEEE 802.3az
Yes
Yes
Queue WRR Ratio
8:4:2:1
8:4:2:1
MAC Table Size
8K
8K
Packet buffer Size
2Mb
2Mb
Jumbo Frames
2KB
2KB
IEEE 802.1p QoS
Yes
Yes
MTBF (hours)
2,940,540
2,940,540
IEE Network Protocols
IEE Network Protocols

IEEE 802.3 Ethernet
IEEE 802.3i 10BASE-T
IEEE 802.3u 100BASE-T
IEEE 802.3i 10BASE-T
IEEE 802.3x Full-duplex Flow Control
IEEE 802.1p Class of Service

Physical Specifications
Weight (kg)
0.92 (2.03 lbs)
1.00 (2.20 lbs)
Dimensions (WxDxH)
280 x 126 x 44 mm
280 x 126 x 44 mm
Power Consumption (When all ports used, line-rate traffic)
Worst case, all ports used, line-rate traffic
2.7W
4.0W
LEDs
Per port
Speed, Link, Activity
Per device
Power
Environmental Conditions
Operating Temperature
32° to 122°F (0° to 50°C)
Operating Humidity
90% maximum relative humidity, non-condensing
Operating Altitude
10,000 ft (3,000 m) maximum
Storage Temperature
- 4° to 158°F (-20° to 70°C)
Storage Humidity
95% maximum relative humidity, non-condensing
Storage Altitude
10,000 ft (3,000 m) maximum
Certifications
Electromagnetic Emissions and Immunity

CE Class A
FCC Part 15 Class A
VCCI Class A
EN 55022 (CISPR 22) Class A
EN 55024
CCC

Safety

UL listed (UL 1950)/cUL IEC 950/EN 60950
CCC (China Compulsory Certificate)
CB
KCC
GHOST

Warranty and Support

ProSAFE Lifetime Warranty
Lifetime 24x7 Online Chat Technical Support
90 days (24/7) Live Phone Technical Support
Lifetime Next Business Day (NBD) Hardware Replacement

ProSUPPORT Service Packs Available

On Call 24 x 7, Category 1**

PMB0311 (1 Year.)
PBM0331 (3 Years.)
PMB0351 (5 Years.)

Package Content

16- or 24-port Fast Ethernet Switch (JFS516v2 or JFS524v2)
Power cord
Rack-mounting kit
Hardware Install Guide
*This product comes with a limited warranty that is valid only if purchased from a NETGEAR authorised reseller, and modifications to product may void the warranty; covers hardware, fans, and internal power supplies-not software or external power supplies; see http://www.netgear.com/about/warranty/ for details. 2-year warranty on power adapters on applicable models. Lifetime technical support includes basic phone support for 90 days from purchase date and lifetime online chat support when purchased from a NETGEAR authorised reseller.
**The NETGEAR OnCall 24x7 contract provides unlimited phone and email technical support for your networking product. For ProSAFE products purchased prior to 06/2014, also includes next business day hardware replacement.
Diagram: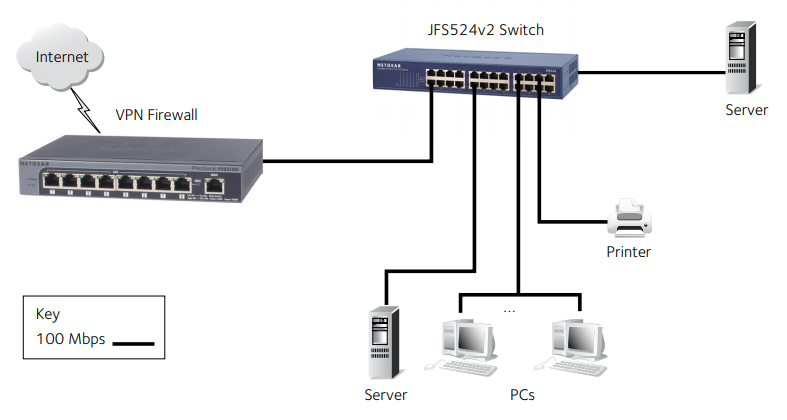 The NETGEAR ProSAFE Fast Ethernet Switch, the right-sized solution with the best value
Fast Ethernet for the best value at the most affordable price
IEEE 802.1p QoS for traffic prioritization
Fanless design for quiet operation
Energy Efficient Ethernet (EEE) for optimized power and cost savings
Lifetime warranty for peace-of-mind