NETGEAR Insight

Deploy. Monitor. Manage. At your fingertips.
THE NETGEAR® INSIGHT SOLUTION


YOUR NETWORK AT YOUR FINGERTIPS

Time-saving
Automated Device Discovery
Fast & Easy Device Configuration
One-touch installation

Peace of mind
Check Wi-Fi Activity
Receive downtime notifications & act rapidly
Reboot devices & upgrade firmware

Anywhere visibility
Multipe sites & devices from a single pane of glass
Remote monitoring
Device list with instant status view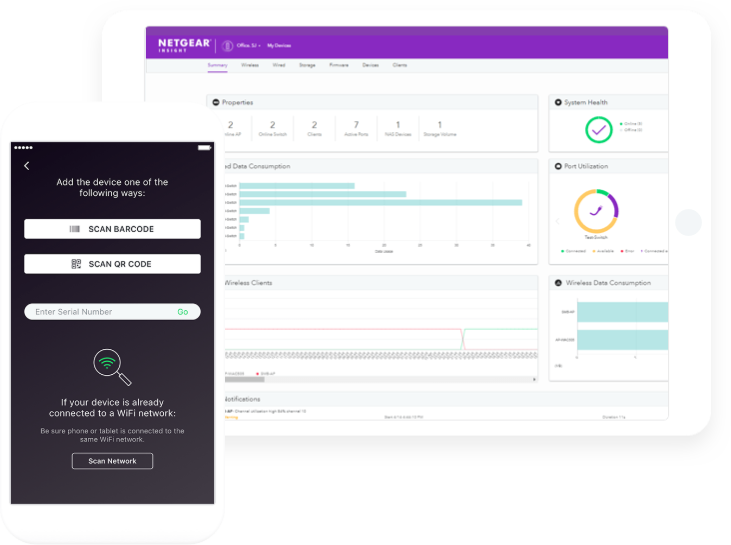 CLOUD ENABLED NETWORK CONTROL FROM ANYWHERE
Using either the NETGEAR Insight app or the Insight Cloud Portal, you can quickly discover, setup, monitor and manage your Insight Managed Switches, Wireless Access Points, VPN Router as well as your Business-class ReadyNAS storage devices, from anywhere!
Whether at home, out of the office, on a business trip, or even at the beach, you can still manage your network as if you were right there, all from the palm of your hand. You are in control of your network and can enjoy the peace of mind you never experienced before when dealing with IT.

Need help? Chat with an industry expert right now!
Please fill out the form below or call us at (02) 9388 1741.
Mailing Address:
NetGuardStore.com.au
A division of Virtual Graffiti Australia Pty Ltd.
401/3 Waverley St.
Bondi Junction, NSW 2022
Australia
Our team is here to help you! We are available from 8:30am AEST/AEDT - 6pm AEST/AEDT and attempt to respond to all inquiries within 1 business day.
Please Note: Technical support is provided by the manufacturer. If you have a product support related questions, please contact the manufacturer directly.