NETGEAR GS810EMX

Nighthawk SX10 Gaming 10-Gigabit/Multi-Gigabit Switch

Sorry, this product is no longer available, Please contact us for a replacement.
Overview:
Unleash your gaming potential
The ultimate gaming experience just got faster. NETGEAR introduces the Nighthawk SX10 Pro Gaming Switch. Unleash your gaming potential with faster speeds, higher performance and best technology. At gaming conventions or LAN centers there are hundreds of devices trying to connect to the network. Even at home with multiple gaming consoles, 4K video streaming, and constant high-speed web surfing throughout the home, wireless networks are fully loaded and struggle to provide a reliable, lag-free connection.
The SX10 Switch tackles this by providing 10G speeds, powerful & intuitive gaming dashboard, and Quality of Service (QoS). Its sleek design and easy set up will impress your friends. Gain the competitive edge with seamless screen time for more gaming victories.
Unlock High Speeds with 10G
10G is 10x faster than 1G. Support all new multi-gig devices with the power they deserve.
Powerful & Intuitive Gaming Dashboard
Control latency and reduce lag spikes. Optimized for gaming, limit bandwidth access per device with just a click.
Fully Customizable RGB LED Controls
Personalize every LED for better visibility or match your gaming set-up
One-Click Setup
Mobile-optimized GUI and "One-click" per-configured settings for all media needs.
Features:
Truly Gaming Features
RGB LED customization for the high demands of the gaming world. Get lag-free performance, an advanced gaming dashboard and cutting-edge.
Gaming Dashboard-Get real-time insight on performance and configuration
Customizable RGB LED Controls-Personalize every light on your switch for better visibility
Low Latency-Experience the smoothest gaming & fastest action
Auto-Diagnostics-Instant troubleshooting to get back into the game faster
High Performance
Ultra-high performance for high demanding gaming and media streaming for the home. Offload high-bandwidth applications/stress from your wireless network ensuring the best performance and experience for gaming, media steaming, etc.
2x 10G/Multi-Gig Ethernet-Increase speeds and expand the bandwidth of your network
8x Gigabit Ethernet LAN Ports -Connect more wired devices for fast action gaming parties
Up to 20Gbps LAG-Ability to aggregate Gigabit or 10-Gig/Multi-Gig ports for faster speeds
Glitch-free streaming - 4K UHD streaming with multicasting support
Easy to Configure - One-Click Setup
Fast set up and configuration. Choose between low latency gaming, high priority media streaming, standard LAN networking, port aggregation or your own customizable user-defined modes.
Pre-optimized settings for Gaming and Streaming
Mobile-optimized Graphical User Interface (GUI)
One-click user-defined configurations
3 Levels of traffic prioritization
Port rate-limiting
Sleek Design
100% Premium Aluminum housing for durability and looks
Premium metal case and NETGEAR quality
Port LED On/Of
Ultimate Gaming Dashboard
Control latency and reduce lag spikes. See real-time per port bandwidth usage on the upgraded gaming dashboard. Be able to identify bottleneck traffic quickly and block out devices consuming precious bandwidth or set up rate limits, all with one click. Either way you'll have ultimate control to get back to world domination.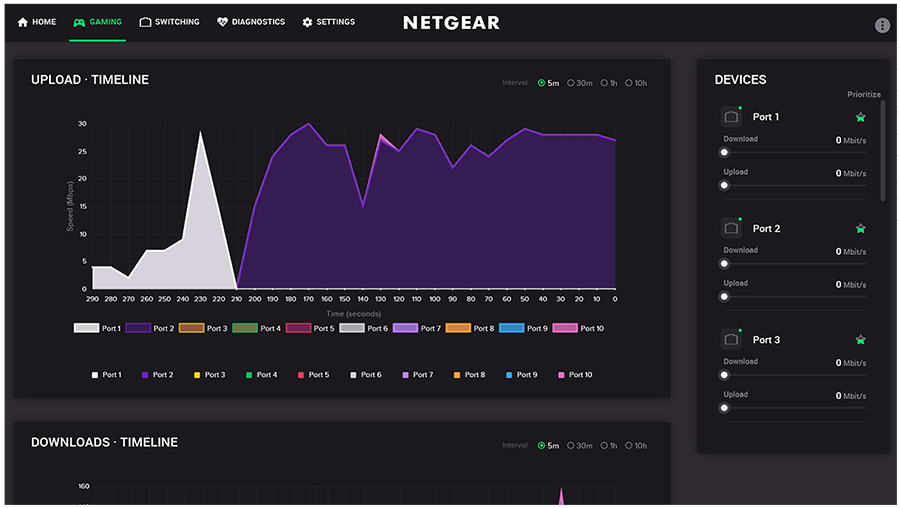 Customizable RGB LED Controls
Enjoy industry-first customizable RGB LED controls. Color code and customize every speed with a different color on each port or group for even easier management. Also, adjust the brightness and frequency to your liking. Its sleek and sexy design makes it the perfect fit for any modern home or Gaming King. Impress others with its futuristic design and easily match your gaming set-up.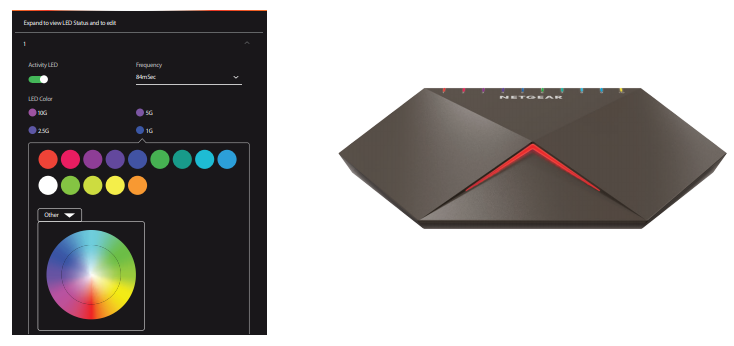 Connection Diagram: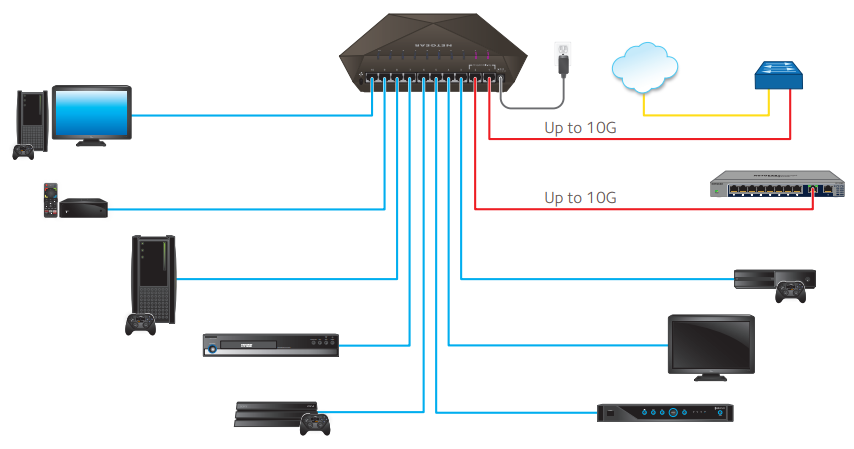 Specifications:

NETGEAR GS810EMX Specifications
Product Specifications
Gigabit ports
8
10-Gigabit/Multi-Gigabit Ports
2
LED on/off (Port and Power)
Yes
Performance Specifications
Packet buffer memory (Dynamically shared across only used ports)
2MB
Forwarding modes
Store-and-forward
Bandwidth
56Gbps
Priority queues
8
Priority queuing
Weighted Round Robin (WRR)
MAC address database size (48-bit MAC addresses)
16K
Multicast groups
128
Packet forwarding rate (64 byte packet size) (Mfps or Mpps)
41.664Mfps
Speed/Latency

10Mbps: <76.9µs
100Mbps: <9.6µs
1000Mbps: <3.2µs

IEEE Standards Supported
Standards Supported

IEEE 802.3i (10Base-T)
IEEE 802.3az (EEE)
IEEE 802.3u (100Base-TX)
IEEE 802.3bz (mGig)
IEEE 802.3u (1000Base-T)
IEEE 802.3x Full-Duplex Flow Control
IEEE802.3an (10GBase-T)
IEEE 802.1p Class of Service

Management
Password management
Yes
Web browser-based graphical user interface (GUI)
Yes
Mobile-optimized GUI
Yes
Firmware upgrade
HTTP (Web GUI)
Configuration/switch settings (backup, restore)
Web GUI
One-click optimized setup
Yes
Preset modes
Default/Customized
Default preset modes
Gaming (Optimizes Port 10 for a gaming device and Port 1 for Uplink)
Media Streaming (Optimizes Port 9 for a media streaming device)
Standard Preset( All ports have equal priorization)
Customizable preset modes
2
Firmware upgrade through web GUI (HTTP)
Yes
Config download (to switch) through web GUI (HTTP)
Yes
Config upload (to server) through web GUI (HTTP)
Yes
Cable test utility
Yes
Port mirroring
Yes
Gaming Dashboard
Upload/Download Speed
Per-Device
Timeline Configurable
5m, 30m, 1h, 10h
Rate Limiting
Per-Port
Port Priority
8-levels
Port Blocking
Yes
L2 Services - VLANs
VLAN Supported
64
Port-based VLANs (physical)
Yes
IEEE 802.1Q VLAN Tagging
Yes
Quality of Service (QoS)
Port-based rate limiting
Ingress and egress
Port-based QoS
Yes
IEEE 802.1p CoS (Class of Service)
Yes
IPv4 DSCP
Yes
Per port rate limiting rates
1/5/10/50/100/500 Mbits
Predefined port priority queues

Low (P0)
Low (P1)
Normal (P2)
Normal (P3)
Medium (P4)
Medium (P5)
High (P6)
High (P7)

Weighted Round Robin (WRR)
Yes
L2 Services - Multicast Filtering
IGMP snooping (v1, v2 and v3)
Yes
IGMP snooping querier
Yes
Block unknown multicast
Yes
Static multicast router port
Yes
L3 Services - DHCP
DHCP Client
Yes
Link Aggregation
Static Manual LAGs (Port Trunking)
Yes
LACP
Yes
# Static/Dynamic of members in each LAG
4 LAG with max 8 members in each LAG
LEDs
Per port
Link/Activity
Per device
Power
Customizable Settings
Port LEDs: Per port and Per speed. Power LED: Yes
RGB Colors
RBG (1 Million colours)
Brigthness
Off: 0% to 100% by slide bar
Frequency
Highest/High/Medium/Low/Lowest
PreSet modes
Yes
Per device
Power
Physical Specifications
Dimensions (W x D x H)
268 x 203 x 93 mm (10.6 x 8 x 3.7 in)
Weight
1.515 kg (3.34 lbs)
Power Consumption
Power Supply
External PSU, 12VDC, 2.5A max
Power supply localized to country of sale
Max power (worst case, all ports used, line-rate traffic) (Watts)
14.19W
Min power (link-down standby) (Watts)
5.54W
Heat Dissipation (max and min) (BTU/hr)
Max: 48.45 BTU/hr
Min: 18.93 BTU/hr
Energy Efficient Ethernet (EEE) IEEE 802.3az
Yes (deactivated by default)
Environmental Specifications
Operating Ttemperature
0° to 40°C (32° to 104°F)
Operating Humidity (relative)
90% maximum relative humidity (RH), non-condensing
Operating Altitude
10,000 ft (3,000 m) maximum
Storage Ttemperature
-40° to 70°C (-40° to 158°F)
Storage Humidity (relative)
95% maximum relative humidity (RH), non-condensing
Storage Altitude
10,000 ft (3,000 m) maximum
Safety Certifications
Certifications
CB, CE LVD, EAC, AU/NZ
Warranty and Support
Limited Warranty
Industry-leading 3 year warranty
Support
90-day complimentary technical support following purchase from a NETGEAR authorised reseller
Package Contents
All Models

Nighthawk SX10 Gaming 10-Gigabit/Multi-Gigabit Switch (GS810EMX)
AC power adapter (localized to country of sale)
Quick Installation Guide (QIG)
* This product comes with a limited warranty that is valid only if purchased from a NETGEAR authorised reseller, and modifications to product may void the warranty; covers hardware, fans, and internal power supplies - not software or external power supplies; see http://www.netgear.com/about/warranty/ for details. Technical support includes basic phone support for 90 days from purchase date and online chat support when purchased from a NETGEAR authorised reseller.