NETGEAR FVS336Gv3

ProSafe Dual WAN Gigabit Firewall with SSL & IPsec VPN

Sorry, this product is no longer available, Please, contact us for a replacement product!
More pricing below, click here!

Please Note: All Prices are Inclusive of GST
Overview:
NETGEAR's ProSafe Dual WAN Gigabit Firewall with SSL & IPsec VPN offers the best of both worlds by offering two types of virtual private network (VPN) tunnels, Secure Sockets Layer (SSL) and IP security (IPsec), for optimal secure connection to your network. SSL VPN tunnels provide clientless remote access to your corporate data for individual access anywhere and anytime while IPsec VPN tunnels provide both secure site-to-site tunnels and legacy support for client-based remote access. Backed by a true firewall, this VPN router is a high-performance, SNMP-manageable, network solution that furnishes multidimensional security including denial-of-service (DoS) protection, stateful packet inspection (SPI), URL keyword filtering, logging, reporting, and real-time alerts. Four Gigabit LAN ports keep your data moving at top speed while two Gigabit WAN ports provide load-balancing and failover protection to ensure maximum throughput and reliable connectivity to the Internet. With Network Address Translation (NAT) routing and classical routing, up to 253 users can access your broadband connection at the same time.
Secure
The FVS336G takes care of all your security needs, with support of up to 25 IPsec VPN tunnels and 10 SSL VPN tunnels simultaneously, hacker protection via SPI firewall, DoS attack protection, and multiple VPN pass-through. SYSLOG and email reporting enable thorough network monitoring. IKE authentication provides peace of mind against unauthorised VPN network access. The SSL VPN tunnels support industry-strength encryption algorithms and features such as automatic cache cleanup after session termination to ensure protection and privacy of your sensitive data. Dedicated DMZ port allows you to segregate externally accessible assets (i.e. Web servers) from internal PCs. The ProSafe Dual WAN Gigabit Firewall provides optimal value and defense against network security threats.
Reliable
Dual Gigabit Ethernet WAN ports support two broadband connections, in either a load-balancing or fail-over configuration. The load-balancing configuration enables maximum throughput by utilizing both WAN connections to distribute traffic across two broadband connections, possibly with different ISP providers. Alternatively, the second WAN port may be configured as a failover connection in case the primary connection fails, for another method of providing high reliability. The rugged metal unit houses advanced, high-quality electronics, and NETGEAR's tested and proven technology is backed by a lifetime warranty.
Easy to use
Auto Detect connects to your ISP quickly; the user-friendly Web-based ProSafe Control Center configuration screen and install assistant reduce setup time. With SSL VPN tunnels, employees can quickly and securely access company data with just a Web browser without going into the office. The IPsec VPN wizard automates IPsec VPN configuration and secure remote makes it simple to connect to multiple sites. Support for DHCP (client and server) as well as PPPoE allows for easy, widespread deployment. This well-built firewall has an integrated 4-port 10/100/1000 Mbps switch and is compatible with Windows®, UNIX®, Macintosh®, and Linux® OS. It comes with an Ethernet cable, and Auto Uplink on the all ports eliminates the need for crossover cables.
Specifications:
NETGEAR FVS336Gv3 Specifications
Physical Interfaces

LAN ports: Four (4) 10/100/1000 Mbps auto-sensing, Auto Uplink™ RJ-45 ports; one LAN port can be a dedicated hardware DMZ portWAN ports: Two (2) 10/100/1000 Mbps auto-sensing, Auto Uplink™ RJ-45 ports to connect to any broadband modem, such as DSL or cableLoad balancing or fail-over modes

SPI Firewall

Stateful packet inspection (SPI):

prevents denial-of-service (DoS) attacks
provides stealth mode
User support: Unrestricted

Keyword filtering on:

address
service (ex. FTP, SMTP, HTTP, RPL, SNMP, DNS, ICMP, NNTP, POP3,SSH, etc.)
protocol
Web URL port/service blocking
file extension (ex. Java, URL, ActiveX)

Port/service blocking

IPsec VPN Functionality

Twenty-five (25) dedicated IPsec VPN tunnels
Manual key and Internet Key Exchange Security Association (IKE SA) assignment

pre-shared key signature
RSA/DSA signature

Key life and IKE lifetime time settings
Perfect forward secrecy
Diffie-Hellman groups 1 and 2
Oakley support
Operating modes
Fully qualified domain name (FQDN) support for dynamic IP address VPN connections

IPsec Support

IPsec-based 56-bit (DES) 168-bit (3DES), or 256-bit (AES) encryption algorithm
MD5 or SHA-1 hashing algorithm
ESP support
PKI features with X.509 v.3 certificate support
remote access VPN (client-to-site), site-to-site VPN
IPsec NAT traversal (VPN pass-through)

SSL VPN Functionality

Ten (10) dedicated SSL VPN tunnels
SSL version support: SSLv3 and TLS 1.0
SSL encryption support: DES, 3DES, ARC4, AES (ECB, CBC, XCBC, CNTR) 128/256 bit
SSL message integrity: MD5, SHA-1, MAC-MDS/SHA-1, HMAC-MD5/SHA-1
Certificate support:

Routing Modes of Operation

Many-to-one Multi-network Address Translation (NAT)
Classical routing
Unrestricted users per port

IP Address Assignment

Static IP address assignment
Internal DHCP server on LAN
DHCP client on WAN
PPPoE client support

Performance Features
Throughput

LAN-to-WAN: 60 Mbps total
IPsec VPN (3DES): 16 Mbps
SSL VPN: 10 Mbps

Connections

10,000 concurrent sessions

Management Features
Administrative Interface

SNMP (v2c) support
Web graphic user interface
Secure Sockets Layer (SSL) remote management
User name and password protected
Secure remote management support authenticated through IP address (or IP address range) and password
Configuration changes/upgrades through Web GUI
2 factor authentication (WIKID)

Logging
Functions

VPN Wizard to simplify configuration of IPsec VPNs
Auto Detect to automatically detect ISP address type (static, dynamic, PPPoE)
Port range forwarding
Port triggering
Enable/disable WAN ping
DNS proxy
MAC address cloning/spoofing
Network Time Protocol NTP support
Diagnostic tools (ping, DNS lookup, trace route, other)
Port/service
Auto-Uplink on switch ports
L3 Quality of Service (QoS) LAN-to-WAN and WAN-to-LAN (ToS)

Protocol Support

Network: IP routing, TCP/IP, UDP, ICMP, PPPoE
IP addressing: DHCP (client and server)
Routing: RIP v1, RIPv2 (static routing, dynamic routing)
VPN/security: IPsec (ESP), IKE, PKI, HTTPS

User Support
Maintenance

Save/restore configuration, restore defaults, upgrades via web browser, display statistics

Hardware Specifications

Processor Speed: 300 MHz
Memory: 16 MB flash, 64 MB SDRAM
Power adapter: 12V DC, 1.2A Plug is localized to country of sale
Dimensions: 25.4 x 17.8 x 3.96 cm (10 x 7 x 1.56 in)
Weight: 3.7 lbs (1.7 kg)

Environmental Specifications

Operating temperature: 0° to 40°C (32° to 104ºF)
Operating humidity: 90% maximum relative humidity, non-condensing

System Requirements

Cable, DSL, Satellite or Wireless Broadband modem and Internet service
Ethernet connectivity from Broadband modem
Network card for each connected PC
Network Software (e.g. Windows)
Internet Explorer 5.0 or higher or Netscape Navigator 4.7 or higher

Warranty

Firewall: NETGEAR Lifetime Warranty
Power adapter: NETGEAR 3-year Warranty

Package Contents

ProSafe Dual WAN Gigabit Firewall (FVS336Gv3)
Ethernet cable
Installation guide
Warranty/support information card
Resource CD with single user ProSafe VPN Client Software license
Diagram: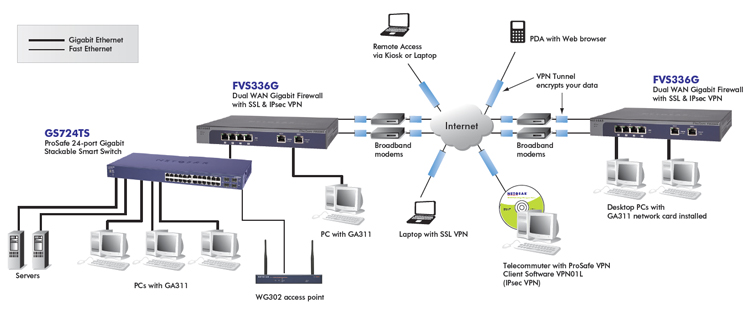 Pricing Notes:
All Prices are Inclusive of GST
Pricing and product availability subject to change without notice.