NETGEAR FVS318N

ProSafe Wireless-N 8-port Gigabit VPN Firewall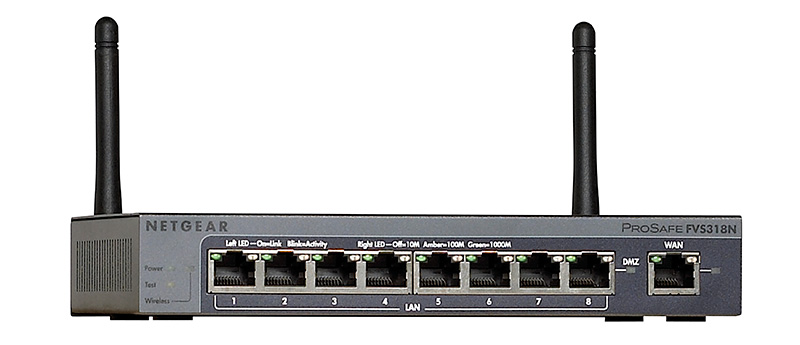 Sorry, this product is no longer available, Please, contact us for a replacement product!
More pricing below, click here!

Please Note: All Prices are Inclusive of GST
Overview:
ProSafe® Wireless-N 8-port Gigabit VPN Firewall
Securely connects up to 5 remote office or traveling users to your office network via VPN
Stateful packet inspection firewall for robust business security
IPsec VPNs connect remote users as well as remote sites, with optional software
Gigabit Networking Ethernet ports offer 10x the speed of Fast Ethernet
SSL VPNs connect remote users without the need for additional software
Features:
True firewall using stateful packet inspection (SPI) and intrusion detection
Initiates up to 12 VPN tunnels simultaneously
IPsec VPN connections using (128-bit, 256-bit) AES and 168-bit 3DES encryption
NAT routing and VPN pass-through for extra security
IPV4/IPV6 support
Application layer gateway support (SIP and FTP)
Smart Wizard® connects to your ISP quickly and easily
Windows®, UNIX®, Macintosh® and Linux compatible
Integrated 8-port 10/100/1000 Gigabit Ethernet switch
5 SSL VPN connections
64 VLAN support
b/g/n wireless 2.4Ghz with multiple SSID support
Deployment: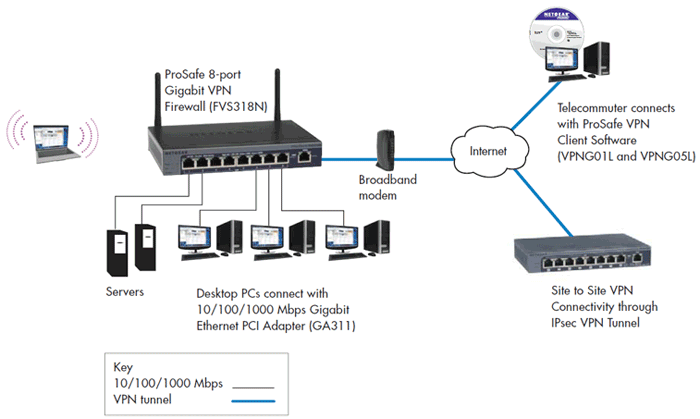 Specifications:
NETGEAR FVS318N Specifications
ProSafe Wireless-N 8-port Gigabit VPN Firewall
Ports
8 x 10/100/1000 LAN, 1 x 10/100/1000 WAN
WAN Redundancy
N/A
VPN Tunnels
12 IPSec, 5 SSL
LAN-WAN Throughput
95 Mbps
Concurrent Connections
6,000
IKE Support
Yes
Encryption
DES, 3DES, AES
Wireless
802.11 b/g/n
Additional Features
SIP Aware, NAT Routing, Classical Routing, VPN Wizard, VPNC Certified
System Requirements

Cable, DSL or wireless broadband modem
Internet service
Ethernet connectivity from broadband modem
Network card for each connected PC
Network software (e.g. Windows)
Internet Explorer® 5.0 or higher or Netscape Navigator 4.7 or higher or Firefox® 2.0 or higher

Functions

VPN Wizard to simplify configuration of IPsec VPNs
Auto Detect to automatically detect ISP address type (static, dynamic, PPPoE)
Port range forwarding
Port triggering
Enable/disable WAN ping
DNS proxy
MAC address cloning/spoofing
Network Time Protocol NTP support
Diagnostic tools (ping, DNS lookup, traceroute, other)
Port/service
Auto-Uplink on switch ports
L3 Quality of Service (QoS) LAN-to-WAN and WAN-to-LAN (ToS)
b/g/n Wireless Interface 2.4Ghz
SIP ALG
GUI-selectable DMZ port

Protocol Support

Network: IP routing, TCP/IP, UDP, ICMP, PPPoE
IPv4/IPv6 Support
IP addressing: DHCP (client and server)
Routing: RIPv1, RIPv2 (static routing, dynamic routing)
VPN/security: IPsec (ESP), IKE, PKI, HTTPS

Application Support

IPsec pass-through, H.323, Instant Messenger™, RealPlayer®, QuickTime®, DialPad, SIP proxy, two-factor authentication

Firewall

Stateful packet inspection (SPI), DoS attack detection/logging, dropped packet log, security event log, email log
95 Mbps LAN-WAN Throughput
6000 Concurrent Connections

Maintenance

Save/restore configuration, restore defaults, upgrades via web browser, display statistics

Hardware Specifications

Processor: 300 MHz 32-bit RISC
Memory: 32 MB flash, 128 MB SDRAM
Power requirements: plug is localized to country of sale
Dimensions (w x d x h): 190 x 125 x 35 mm (7.5 x 4.9 x 1.4 in)
Weight: .59 kg (1.3 lb)

Warranty

Firewall: NETGEAR Lifetime Warranty
Power adapter: NETGEAR 3-year Warranty

Package Contents

ProSafe Wireless-N 8-port Gigabit VPN Firewall (FVS318N)
Power adapter
Ethernet cable
Installation guide
Resource CD
Pricing Notes:
All Prices are Inclusive of GST
Pricing and product availability subject to change without notice.