NETGEAR ANT224D10

ProSAFE 10 DBI Directional Antenna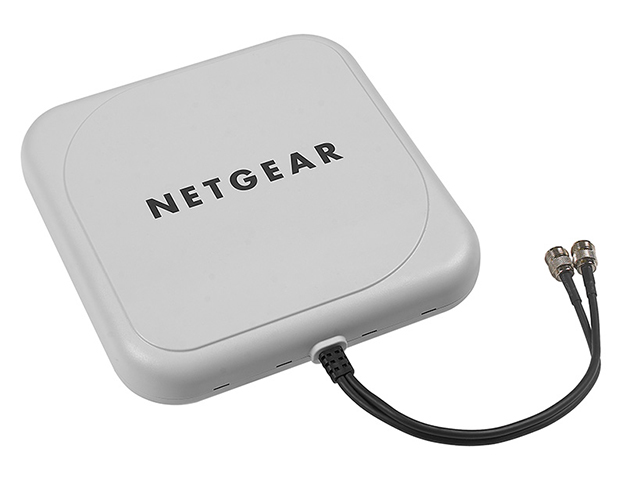 Netgear Products
NETGEAR Wireless Accessories
NETGEAR ProSAFE ANT224D10 10 DBI Directional Antenna
Optimal for building-to-building deployments outdoors or floor-to-floor connectivity indoors, boost your RF signal in a specific direction for long range point-to-point connections with ProSAFE 10 DBI Directional antenna at wireless 802.11n speeds.
Optimize WLAN Range and Power with the ProSAFE 10 dBi 2x2 Indoor/Outdoor Directional Antenna
The ANT224D10 2.4 GHz antenna provides extended range connectivity for point-to-point wireless bridges at wireless 802.11n speeds. With a maximum range of 8.5 KM, the ANT224D10 enables high speed connections for building-to-building deployments. Additionally, this antenna can be used indoors for floor-to-floor connectivity or to provide a narrow beam of coverage. Due to the multiple streams of traffic in the 802.11n specification, this antenna requires two antenna cables, which are available in a variety of lengths. It includes several mounting options and comes with wall/pole mounting hardware. Cables are sold separately.
NETGEAR ProSafe line of antennas and accessories for 802.11b, 802.11g and 802.11n devices give you multiple options for maximizing the reach and performance of your wireless infrastructure devices. Every WLAN deployment is unique. With both directional and omni-directional antennas, indoor and outdoor options, low-loss cables, mounting hardware, and other accessories, installers can customize a wireless solution that meets the requirements of even the most challenging applications.
NETGEAR ANT224D10 Specifications
Wireless Signal
IEEE 802.11g
Typical Application
Indoor/outdoor
Maximum Outdoor Range*
8.5 km (5.28 miles)
Frequency Range
2400 - 2500 MHz
Gain**
10 dBi
Beam Width
Horizontal 33° Vertical 32°
Polarization
Linear; Vertical
Operating Temperature
-30º to 80º C (-22º to 176º F)
Dimensions
240 x 240 x 40 mm (9.45 x 9.45 x 1.57 in)
Weight
0.7 kg (1.54 lb)
Connectors

Antenna - N Jack Male
Lightening Arrestor - N Jack Male to N Jack Male
Extended Cable - N Plug Female

Package Contents

NETGEAR ProSafe Indoor/ Outdoor 10 dB 2x2 Directional Antenna ANT224D10
2 lightning arrestors with 30 cm low-loss cables
2 reverse N/SMA adapter
Wall mount and pole mounting hardware
Installation Guide and Warranty/ Support card